*This post is made possible by Monica Veley ItWorks! Independent Distributor. I received a promotional item in order to facilitate this review. All thoughts and opinions are my own. This post may contain affiliate links.*
I'm sure by now, every one who is active on Facebook or Twitter as heard of It Works!….that crazy wrap thing. I happen to have a few friends who are independent distributors and have had great success with the It Works products, and one of those friends is Monica.
Since my little Peanut arrived in August, I've been a bit more sluggish, haven't been properly caring for myself and well, let's face it….I'm sleep deprived which means I have zero energy.
After listening to me complain a few times, Monica suggested I give Greens from It Works! a try and hooked me up with a supply.
Now, I will admit, I was skeptical at first. I truly didn't believe this was going to help my problem, but hey….I'll try anything once.
Before I share my experience, here's a little info on the Greens.
Alkalize, energize, and detoxify wherever you go with Greens on the Go™ in a new sweet berry flavor. This convenient, single serving packet of Greens is now powered by an even better pH-balancing blend, supercharged with an acidity-fighting combination of magnesium and potassium for even more alkalizing properties. The addition of a cutting-edge probiotic helps you maintain that healthy balance by keeping your digestive system regular and toxins flowing out. With 8+ servings of fruits and vegetables and a blend of 38 herbs and nutrient-rich superfoods, Greens provides naturally occurring, bioavailable vitamins, minerals, antioxidants, phytonutrients, and enzymes to give your already well-balanced diet a nutritional boost. Just mix, shake, and take your Greens on the Go!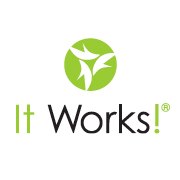 As a person who needs to take better care of themselves, who doesn't eat enough fruits and veggies, and needs to energize and detoxify, I could see exactly why Monica had made this suggestion. So, for a week straight, I added a pack of Greens to my daily smoothie each morning. On day one, I didn't notice anything new. On day two, I discovered that I wasn't dozing off in the afternoon. On days 3-7, I had more energy than I had had since before I got pregnant with Peanut.
And then….the entire family got the stomach flu and I fell off track.
And then….I got influenza and was sick for a week straight.
And now I am FINALLY feeling better again and am definitely breaking out my stash of Greens and jumping back on the It Works! train!
It Works! Greens are available in 2 flavors, orange and berry and in a variety of sizes, ranging in price from $33.00-$79.00. It Works! recently introduced Greens Chews for those who are looking for an alternative to a drink additive.
Connect
If you want to learn more about It Works!, Greens and those crazy wrap things, you can check out Monica's website or connect with her on Facebook.
As an added bonus, if you sign up as a customer and share your link, any referral customers earns you a free box of wraps or $35 in product!
The following two tabs change content below.
Anne is a 30-something full-time SAHM mom of 5 ranging from 3 to 17 and grandma of 1 who resides in Ashwaubenon (Green Bay) Wisconsin. She started blogging in 2008 as a way to regain her sanity. She enjoys coffee, chocolate, cheeseburgers and vodka along with spending time with her husband and kids.
Latest posts by Anne Younger (see all)