The last 7 days have all kind of run together for me. Last Monday, Alexander came home from school and wasn't feeling well. He just kept telling me he had a tummy ache. By Tuesday morning, his tummy ache turned into a cough and by late Wednesday night we added a fever to the mix. Thursday and Friday came and went and although he had his moments, he seemed to be on the mend and things were looking up.
On Saturday, we cleaned house and then made our way to Disney on Ice in the afternoon.
Things at Disney on Ice were going great, every one was enjoying the show, and we were into the second act when Alexander snuggled up to me and said,"Mommy, I'm cold". I placed my hand on his neck and then forehead to discover that the fever had returned and this time, was higher than before. Thankfully, the show was wrapping up and we were able to catch the end and make our way home. Once we got home, I checked his temp and he was still doing okay so we ate dinner and halfway through he said he wanted to go to the doctor.
I checked his temp again and it was 103.3.
Off to the ER he went with daddy and home just over an hour later with an Influenza diagnosis.
Ugh!
On Sunday, he seemed to be doing better and around 10pm, he started complaining that his right ear was hurting really bad way down on the inside. (Of course, the doctor the night before didn't check his ears). After talking to him for a bit, Alex and I packed him up and made our way back to the ER and of course, after almost 3 hours, we had a diagnosis of an ear infection.
Monday morning, things started to look up. Zack and Libby made there way to school and let the rest of us sleep, and sleep we did. Around 10:30 am, Alex and I got up with the kids, and just laid low, he went off to work a few hours later and things seemed to be going well.
Shortly after 3, Zack and Libby returned from school and I learned that another child had pulled on Zack's arm and dislocated his shoulder and popped it back in place. After hearing this, I called the doctor's office and made him an appointment for Tuesday morning.
Around 3:30 Ellie woke up from her nap only for me to discover that she was now rocking a fever and a cough was starting to develop. I decided just to lay low and have an easy night with the kids. She went to bed without any problem shortly after 8pm until she woke up, not happy close to midnight. Alex snuggled her until she went back to sleep around 2:30am and fell asleep in his recliner until 6:30 and then joined me in bed.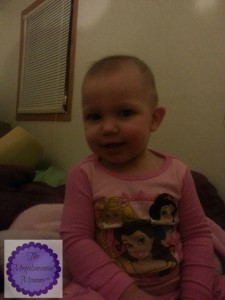 Libby left for school around 6:50 and at 7:20 I received a call from the office of her school telling me she had fallen on the ice on her way to school and hit her head. A mom from the high school saw the fall, dropped her child off, circled back and found Libby still down on the ground. She was kind enough to stop and help her and get her to school so they could contact me. A few minutes later Alex made his way to the school and picked her up. She doesn't remember the fall or anything about it, so of course, we took her to the ER and had her checked out and she is now home with me until Wednesday with a concussion.
After our return from the ER with Libby, we had a little time to relax and then Alex made his way to the doctor's office with Zack and Ellie since the doctor was nice enough to piggyback Zack's appointment and check her out too. Zack was examined and x-rayed and thankfully nothing is broken but he will be backin physical therapy on Friday. As for Ellie, she has an ear infection as well along with influenza.
Thankfully in all of this, I have not shown any signs of influenza which could be really bad for myself and the baby and Alex seems to be doing well too. We are both just really tired and cannot wait to sleep in the same bed again and actually get some sleep.
Here's hoping things start looking up!
The following two tabs change content below.
Anne is a 30-something full-time SAHM mom of 5 ranging from 3 to 17 and grandma of 1 who resides in Ashwaubenon (Green Bay) Wisconsin. She started blogging in 2008 as a way to regain her sanity. She enjoys coffee, chocolate, cheeseburgers and vodka along with spending time with her husband and kids.