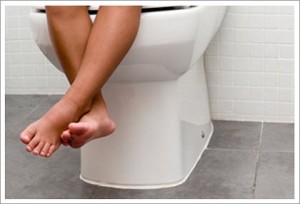 I honestly think I hate potty training MORE than I hate changing poopy diapers.
We are on Day 3 of the potty training.
With only 1 accident on each of these days.
It's 10:30am.
1 accident today, but that was mostly my fault.
We're using a Pull-Up/Underwear/Naked combination.
So far, so good.
We've also got a potty chart in the bathroom, a ton of stickers and a wicked awesome Sesame Street potty seat that goes on the toilet .
I've also had a toddler, in nothing but a Pull-Up, underwear or nothing at all since Saturday morning.
And we haven't taken him out of the house the entire time.
And he has a wiener obsession.
So, at least we know he is a normal boy.
I am losing my mind.
In the potty every 15 minutes.
It gets exhausting.
Why wasn't it this hard with my oldest son?
What do you find worked best while you were potty training your little one?
The following two tabs change content below.
Anne is a 30-something full-time SAHM mom of 5 ranging from 3 to 17 and grandma of 1 who resides in Ashwaubenon (Green Bay) Wisconsin. She started blogging in 2008 as a way to regain her sanity. She enjoys coffee, chocolate, cheeseburgers and vodka along with spending time with her husband and kids.
Latest posts by Anne Younger (see all)