I have been getting a lot of questions on how I am planning on doing this whole Home Preschool program for Alexander this fall and have decided to give a little more info on what I am planning, how I am doing it and everything in between.
Having worked in child care for over 6 years and teaching preschool for 2, I have a good grasp on the things that my son would learn in a traditional preschool setting. Between the info in my head, the help of the amazing internet and all it has to offer and about $100 on supplies, I am bringing preschool into our home.
As I mentioned in my last post, our home preschool program will be kicking off on September 6th. I am planning on our schedule alternating Tuesday, Thursday one week and Monday, Wednesday, Friday the following week. Each day of school will start at 9:00am and end at 11:00am just as it would have at the preschool he would have been attending.
We are kicking off our first week with a Back-to-School theme since I know he will be sad to see his brother and sister head out the door each morning. This way he will have his own little back to school celebration. Each week I will be incorporating art, music, math, science and different motor skills activities along with circle time into our schedule.
I will be utilizing a variety of websites for different parts of our day that will allow him to play some educational games on our touch screen computer. One of the sites that we will be using in our first week is Disney Junior which offers games in different subjects. We will be using this to cover math that week.
As mentioned, I did spend some money on prepping us for this new journey. I purchased some items from Oriental Trading that will add to our "classroom" (which is our den turned half office half classroom).
One of the items I purchased was the My First Calender Magnetic Chart.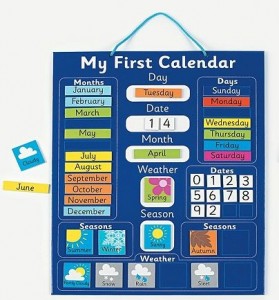 I picked this calender up for $13.50 and am excited to use it with Alexander. From my experience teaching preschool in the past and having conducted a ton of circle times, I know how excited kids get to help with the calender and check the weather and am looking forward to doing the same with my little man.
Another great item I picked up is an alphabet matching card game since he loves matching things up all the time. I thought this would be a great way to introduce him to the alphabet and have fun at the same time. I also picked up a few other materials like art supplies, preschool workbooks with his favorite characters and some awesome new books that I know he will love. Oh and did I mention that for $20 I picked up this awesome 60 piece stencil set that has dinosaurs, farm animals, sea animals, cars and so much more!
I am also lucky that over the years I have saved every children's book I have ever purchased or received as a gift. These books will definitely be an everyday staple to our program.
I hope you will continue to follow us on this journey as we take it one day at a time. If you have any questions or would like any other information, please feel free to ask!
The following two tabs change content below.
Anne is a 30-something full-time SAHM mom of 5 ranging from 3 to 17 and grandma of 1 who resides in Ashwaubenon (Green Bay) Wisconsin. She started blogging in 2008 as a way to regain her sanity. She enjoys coffee, chocolate, cheeseburgers and vodka along with spending time with her husband and kids.
Latest posts by Anne Younger (see all)