*This post is made possible by Disney. I received a promotional item in order to facilitate this review. All thoughts and opinions are my own. This post may contain affiliate links.*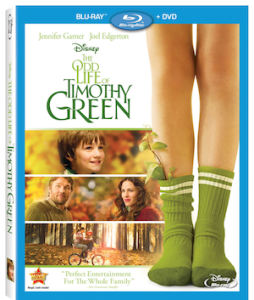 Today, in the wee (and I mean beyond early) hours of the morning, I sat in our recliner, snuggled up with one Alexander who had awoke from a nightmare. While we were all snuggled up, we decided it would be a good time to watch The Odd Life of Timothy Green (since we had both managed to fall asleep a few scenes in hours earlier).
I had heard nothing but great things about this movie and both Zack and Libby had watched it already and raved about how good it was. This movie, it had me laughing and it also had me in tears. Alexander and I both LOVED it!
If you have not seen this movie yet, I highly recommend adding it to the must see list!!!
The Odd Life of Timothy Green is ahighly imaginative story about a happily married couple who can't wait to start a family but can only dream
about what their child would be like. Then one stormy night young Timothy shows up on their doorstep. Soon they and the small town in which they live learn that sometimes the unexpected can bring some of life's greatest gifts. The story is written by Ahmet Zappa.
You can check out the trailer below if you haven't seen it before.
The Odd Life of Timothy Green is chock full of bonus features as well, including the documentary "Family Roots: Bringing 'The Odd Life of Timothy Green' to the screen. the Glen Hansard music video for 'This Gift', deleted scenes and more!
Also, be sure to check out all of these fun games and activities.

Connect:
You can connect with The Odd Life of Timothy Green on Facebook or @OddLifeMovie on Twitter.
The following two tabs change content below.
Anne is a 30-something full-time SAHM mom of 5 ranging from 3 to 17 and grandma of 1 who resides in Ashwaubenon (Green Bay) Wisconsin. She started blogging in 2008 as a way to regain her sanity. She enjoys coffee, chocolate, cheeseburgers and vodka along with spending time with her husband and kids.
Latest posts by Anne Younger (see all)