*This post is made possible by participating in a blog campaign by Global Influence on behalf of HERSHEY'S. I received a promotional item in order to facilitate this post. All thoughts and opinions are my own. This post may contain affiliate links.*
Can you believe it is already March?? I am trying to figure out where time is going because I seem to be losing a lot of it. Now that we have entered March, Easter will be here before we know it which means it is time for me to start getting things ready around this house of ours. With 5 kids, I don't get a lot of time to prepare for things so I tend to give myself a few extra weeks to get ready these days.
Thanks to our friends at HERSHEY'S, prepping for Easter has been a breeze this year! They were kind enough to provide us with a box full of goodies (8lbs of it!) to kick off the celebration.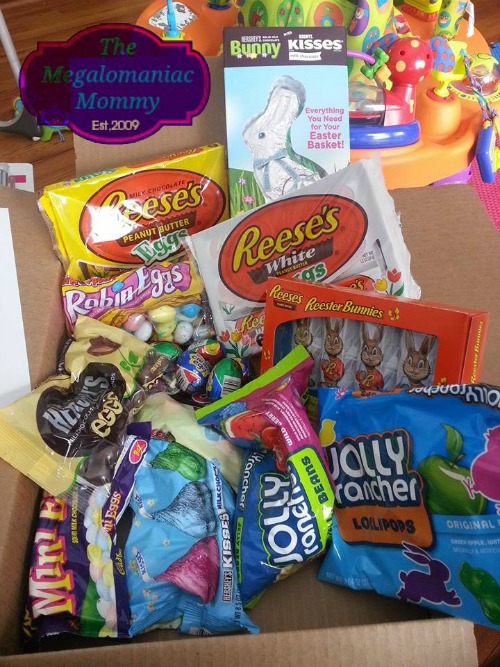 Now most people would think that all of this delicious candy would be for the Easter Bunny to fill up all those Easter baskets in this crazy house of ours. In this house, candy isn't just for eating….sometimes, it's for decorating!
To kick the season off, I decided I would create an Easter centerpiece for our kitchen table. Since we finally have a house of our own, I am all about decorating for the holidays and am ready to start new traditions and create some great memories with my family. This is the first Easter centerpiece I've ever created and I think it looks pretty great!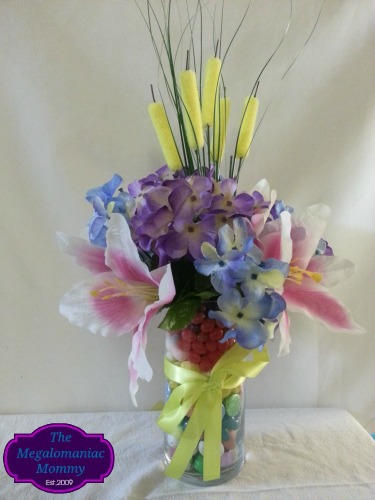 Now, if you look closer at the vase, it is filled with different candies in beautiful pastel Easter colors.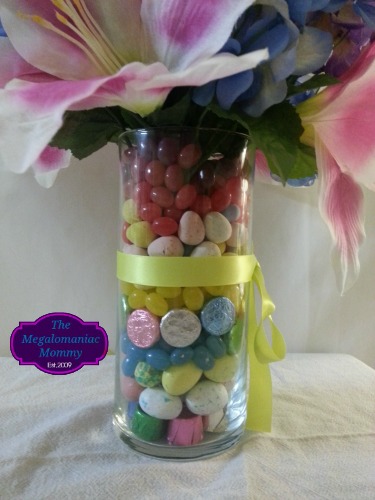 This was actually super easy to create and it was lots of fun! Since I already had all of the candy on hand, I grabbed the vase, ribbon and flowers from our local dollar store which made this craft affordable too! Who doesn't love an edible craft?
Here's everything that is included in this centerpiece.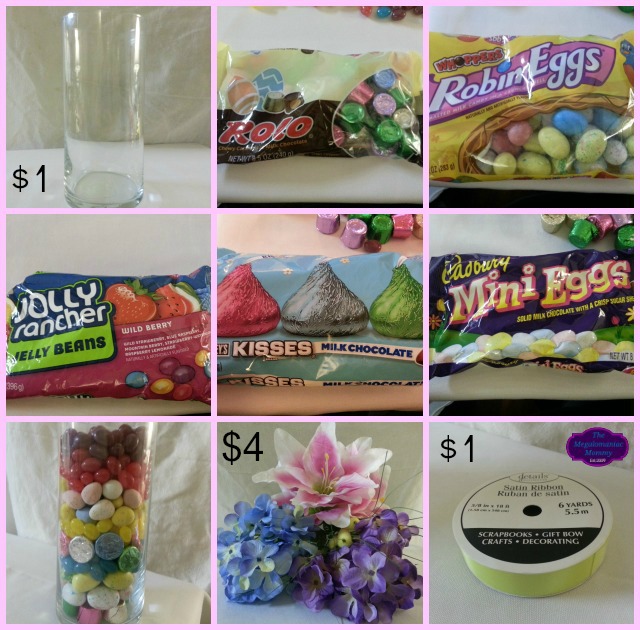 Now, of course, I had a lot of candy left so I decided to whip up a new sweet treat……a quick and easy Peanut Butter Kissed Pie.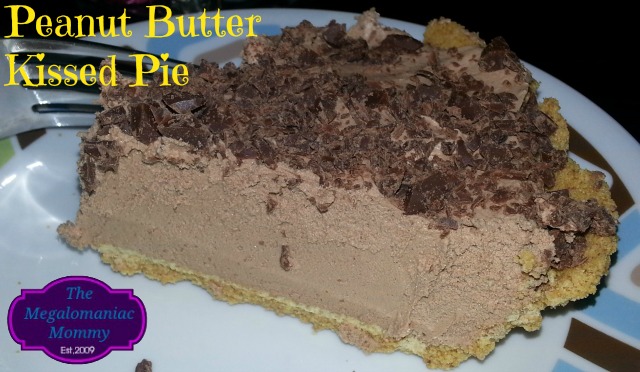 Like I said, this pie is super easy and quick to make. All it takes is a premade pie crust, HERSHEY'S REESE'S Peanut Butter Eggs, HERSHEY'S KISSES Milk Chocolate and a tub of whipped cream. Be sure to grab the complete recipe and directions below.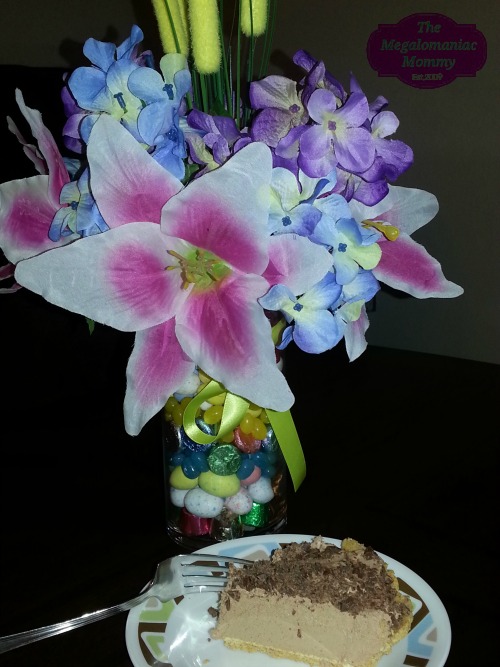 Be sure to stop by the Celebrate With HERSHEY'S website for ideas, recipes and so much more! I've been checking out some different basket ideas and can't wait to start getting them ready for the kids!
Connect
You can connect with HERSHEY'S on Facebook and follow the #BunnyTrail hashtag for more great Easter ideas on Facebook, Twitter and Instagram.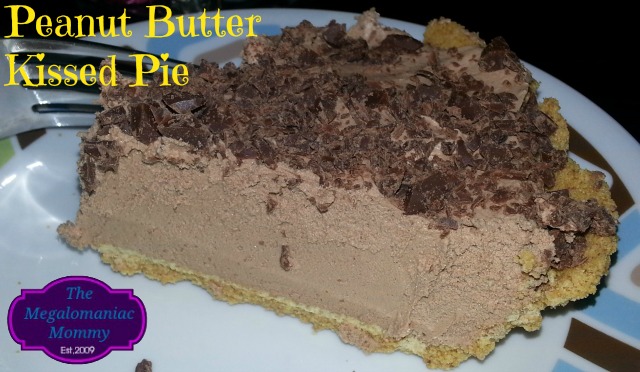 Peanut Butter Kissed Pie
2014-03-07 00:52:43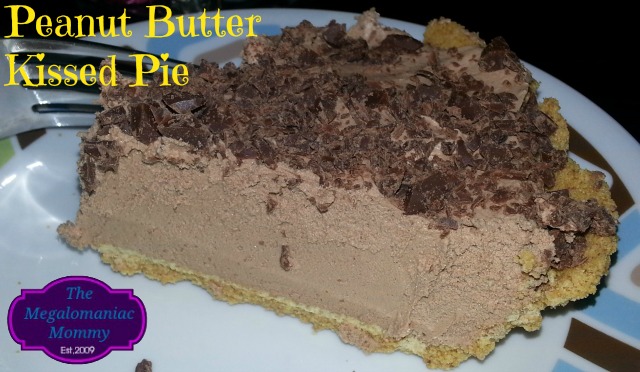 Ingredients
4 HERSHEY'S REESE'S Peanut Butter Cup Eggs
12 oz bag of HERSHEY'S KISSES Milk Chocolate
12 oz whipped topping
1 premade pie crust
Instructions
Place peanut butter eggs and kisses in a microwave safe glass dish (save 8-10 kisses to top the pie). Melt in microwave for 1 minute, stir and then continue to heat in 30 second intervals until melted.
Combine melted eggs and kisses with whipped topping and beat with mixer until well blended.
Spread mixture in pie crust.
Chop remaining kisses and sprinkle on top of the pie.
Freeze for one hour.
Cut & Serve
Enjoy!
The Megalomaniac Mommy http://themegalomaniacmommy.com/
The following two tabs change content below.
Anne is a 30-something full-time SAHM mom of 5 ranging from 3 to 17 and grandma of 1 who resides in Ashwaubenon (Green Bay) Wisconsin. She started blogging in 2008 as a way to regain her sanity. She enjoys coffee, chocolate, cheeseburgers and vodka along with spending time with her husband and kids.
Latest posts by Anne Younger (see all)