Yes.
Our sweet little Baby Ellie has a herniated belly button.
Thankfully it is small enough that the doctor thinks it will close by itself.
Just to be safe, she is being re-examined by our family doctor this Friday (mommy needs the reassurance).
It doesn't really seem to have any affect on her other than the fact she went from an innie to an outie.
Either way, she is still just as adorable.
All in all Ellie is doing very well.
When we took her into the Dr. last week to have her belly examined she weighed in at 8lbs. 13oz.
I am very happy with the weight gain and I cannot wait to have her checked out on Friday and see how tall she is.
I know she has definitely grown because she is finally moving out of her newborn clothing and into all of the cute 0-3 month stuff she has!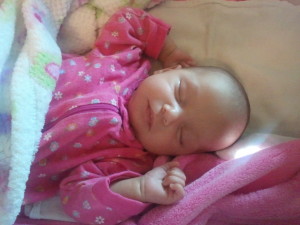 Fingers crossed that all goes well at tomorrow's appointment!
Hard to believe that tomorrow she will be 2 months old already!!!!
The following two tabs change content below.
Anne is a 30-something full-time SAHM mom of 5 ranging from 3 to 17 and grandma of 1 who resides in Ashwaubenon (Green Bay) Wisconsin. She started blogging in 2008 as a way to regain her sanity. She enjoys coffee, chocolate, cheeseburgers and vodka along with spending time with her husband and kids.