*This post is made possible by Disney Jr. I received a promotional item in order to facilitate this post. All thoughts and opinions are my own. This post may contain affiliate links.*
Since we went cable free a year ago, we haven't really been keeping up with the new kids shows unless they are available on DVD or we can find them on Hulu or Netflix. Thanks to our friends at Disney Jr. we were recently introduced to Henry Hugglemonster.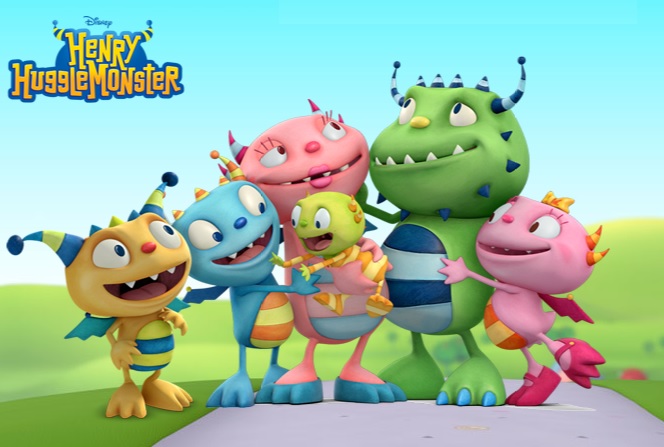 Welcome to the newest, happiest, most monster-rific spot on the map – the wondrous land of Roarsville – where five-year old Henry Hugglemonster lives, plays and learns something "roarsome" every day!
Together with his loving parents and grandparents, big brother Cobby, sister Summer, baby bro Ivor, and a town full of cuddly monsters, Henry embraces all the joys and challenges of growing up. Whether he's helping his sister put on a show, setting up a hugglejuice stand or entering his monsterdog Beckett in a pet pageant, he's always discovering new ways to be the best brother, friend and monster he can be! Packed with over two hours of song-filled fun, teamwork and adventure, Henry Hugglemonster: Meet The Hugglemonsters! will make your preschooler roar for more every time!
I found this show to be absolutely adorable and another winner for Disney Junior and for our family! Check it our for yourself in the clip below.
Not only did I enjoy Henry and his family but our little Ellie is now hooked on the show and wants to watch it over and over and over and over…..
Thankfully when we aren't able to watch it I can keep her busy with these great activities.
The DVD comes packed with 6 episodes and also includes free iron-on decals!
Episodes included are:
1 – "The Huggleflower/"Monster Lullaby"
2 – "Astrobrix"/"The Sore Roar"
3 – "Promises Promises"/"Fireworks Night"
4- "The Hugglejuice Stand"/ "The Huggledance Party"
5- "Carried Away"/"Monster in Charge"
6 – "Monsterpet Pageant"/"Ivor's First Stomp"
AND
Bonus Episode: Horseshoe Peck/Callie's Gold Nugget
The following two tabs change content below.
Anne is a 30-something full-time SAHM mom of 5 ranging from 3 to 17 and grandma of 1 who resides in Ashwaubenon (Green Bay) Wisconsin. She started blogging in 2008 as a way to regain her sanity. She enjoys coffee, chocolate, cheeseburgers and vodka along with spending time with her husband and kids.