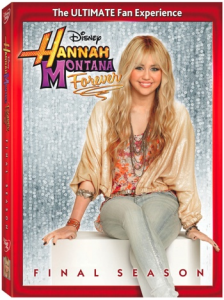 Did you know that I live in a house filled with people who like Hannah Montana? They might not all be willing to admit it out loud (ahem….Zack…Alex….yes, I am pointing the finger at you!) but seriously, all 5 of us like the show.
Hannah Montana finally came to an end with the last season, Hannah Montana: Forever which focuses on Miley's Senior year of high school and her struggle with her alter ego, Hannah Montana.
Hannah Montana Forever: The Final Season is a 2-disc set complete with an exclusive alternate ending to the series finale, goodbyes from the cast, a collectible 28-page memory book with all kinds of goodies!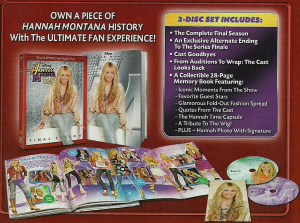 If you have a Hannah Montana fan in your family, the Libby recommends this as an EXCELLENT gift!
She even asked me to share one of her favorite scenes from the season.
I'm pretty sure that after she saw that episode she was singing that song for a week straight!
Enjoy!!!!
Disclaimer: This promotion was based on using a complimentary product provided by Walt Disney Studios Motion Pictures. Walt Disney Studios Motion Pictures doesn't represent or warrant the accuracy of any statements or product claims made here, nor does it endorse any opinions expressed within this blogsite. The opinions stated from me are 100% mine and they are my true thoughts on this film.
The following two tabs change content below.
Anne is a 30-something full-time SAHM mom of 5 ranging from 3 to 17 and grandma of 1 who resides in Ashwaubenon (Green Bay) Wisconsin. She started blogging in 2008 as a way to regain her sanity. She enjoys coffee, chocolate, cheeseburgers and vodka along with spending time with her husband and kids.