Even though it's finally starting to warm up here in Green Bay, we still spend a lot of our mornings inside until the sun warms everything up outside. It is during these moments, when we are stuck indoors, that I need to have extra tools on hand to keep little people busy, entertained and help them burn off energy.
Thanks to HABA Toys and the Croco Kuno Crawling Tunnel, Ellie and Joey are having fun buring all kinds of pent up energy in the mornings.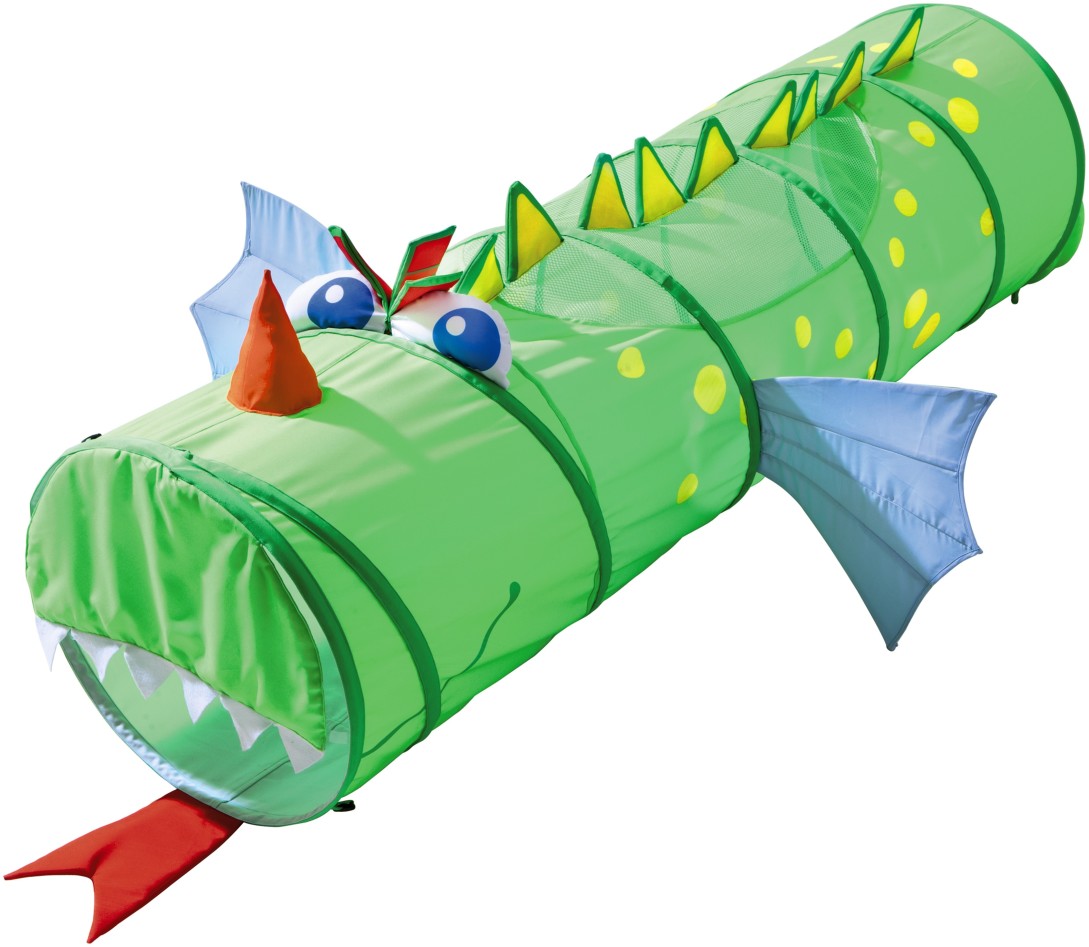 The Croco Kuno Dragon Crawling Tunnel from HABA is a sturdy indoor tunnel for your little one to spend countless hours having fun snaking their way from one end through the other.
The kids love to crawl after each other, non-stop. One goes in, the other follows and crawls through as fast as they can, runs out and to the other end and back in again. It's so much fun to watch them.
The Croco Kuno Crawling Tunnel is made of non-toxic polyester and mesh fabric and it isn't treated fire retardant or water repellants. The tunnel is also BPA, PVC and phthalate free making it even safer for the little ones.
The internal structure is made of metal and is easy to set up and take down. It also has wrap around tethers to secure it for easy storage (we store ours right behind the couch for easy access).
The Croco Kuno Crawling Tunnel is great for kids ages 1 and up. Joey is just past a year and a half and Ellie is closing in on three and a half and they both love it.
I can't wait to see what other games they come up with when it comes to chasing each other in the tunnel!
Get Your Own
You can get your own Croco Kuno Crawling Tunnel from HABA Toys for $69.99
Connect
Be sure to connect with HABA Toys on Facebook, Twitter and Instagram.
The following two tabs change content below.
Anne is a 30-something full-time SAHM mom of 5 ranging from 3 to 17 and grandma of 1 who resides in Ashwaubenon (Green Bay) Wisconsin. She started blogging in 2008 as a way to regain her sanity. She enjoys coffee, chocolate, cheeseburgers and vodka along with spending time with her husband and kids.
Latest posts by Anne Younger (see all)