*This is a sponsored post, all thoughts and opinions are my own. This post may contain affiliate links.*
Over the last few years, I have fallen in love with watching cooking shows and have spent A LOT of time tuned into the Food Network. One of my favorite shows in the lineup has always been Diners, Drive-Ins and Dives hosted by the one and only Guy Fieri.
Since watching the first episode and being introduced to Guy, I was hooked.
I've always loved his attitude, his style and his awesome tools in the kitchen on Guy's Big Bite….the kitchen…it's killer!
Alex and I have wanted to try to recreate some of Guy's great dishes and now that we have the kitchen and the tools to do so, we did!
Using Guy's non-stick aluminum cookware and cooking tools from Walmart, we were able to create our own take on Guy's Penne Pasta with Cajun Hot Links & Chipotle Shrimp. *Recipe at the end of this post.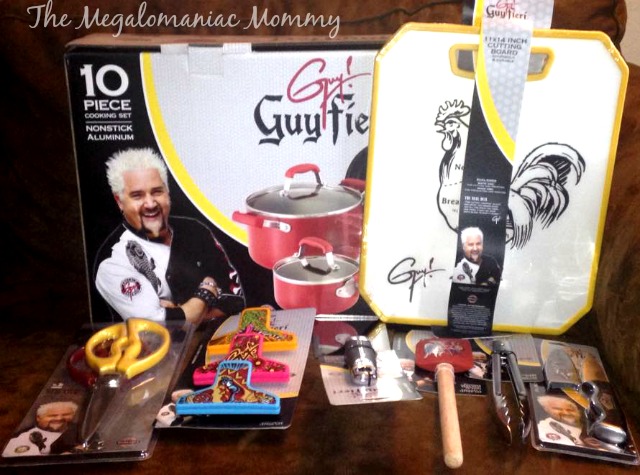 Cooking using these new items was a breeze! Thanks to the non-stick cookware, we didn't have to worry about half of our meal sticking to the bottom of the pan while we were cooking and clean up was an absolute breeze as well.
I love the color of these pots and pans and cannot get over how pretty they are, of course, I had to take a picture of them!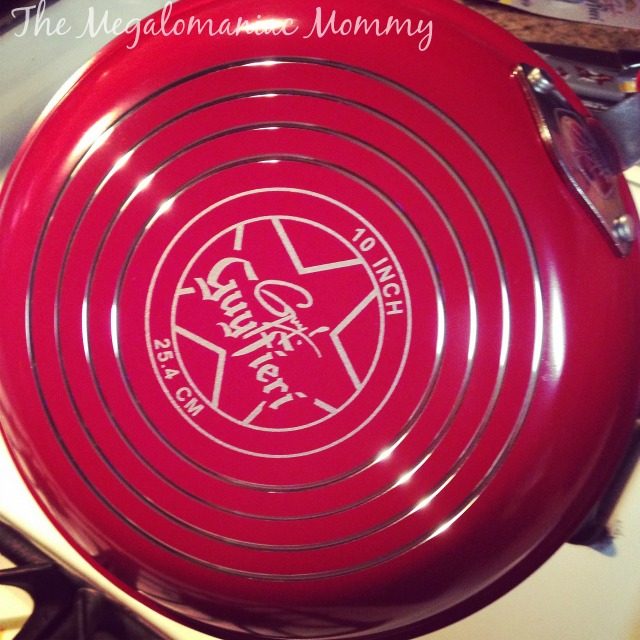 I love the design of this set and it's great for us because it is made to be strong enough for everyday use, it's a great quality product and it's affordable.
We started our journey by prepping the chipotle sauce. Now, I am not a fan of really spicy things but both Alex and Zack are so we stuck to the original recipe.
The chipotle sauce calls for BBQ sauce, canola oil, lemon juice, Dijon mustard, chipotle peppers in adobo sauce, red chili flakes, cayenne pepper and ground black pepper.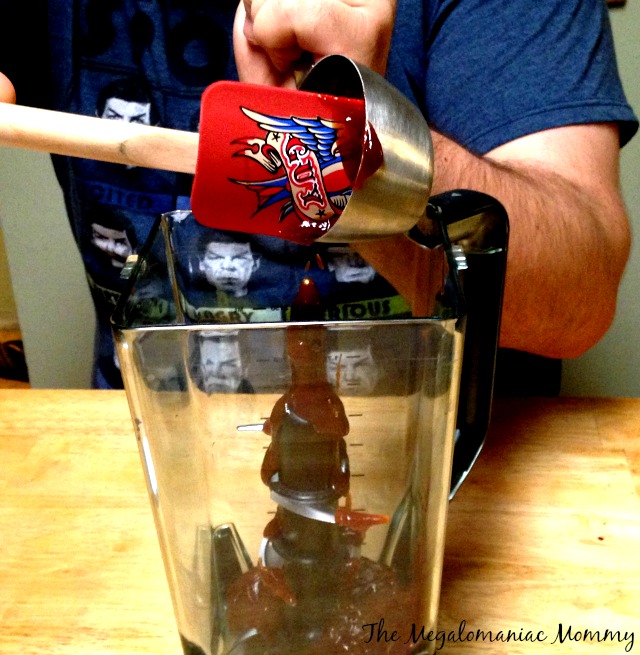 Once you have all of your ingredients measured out, you combine them all in a blender, puree, cover and refrigerate.
We did test out the sauce before it went in the fridge and it was delicious!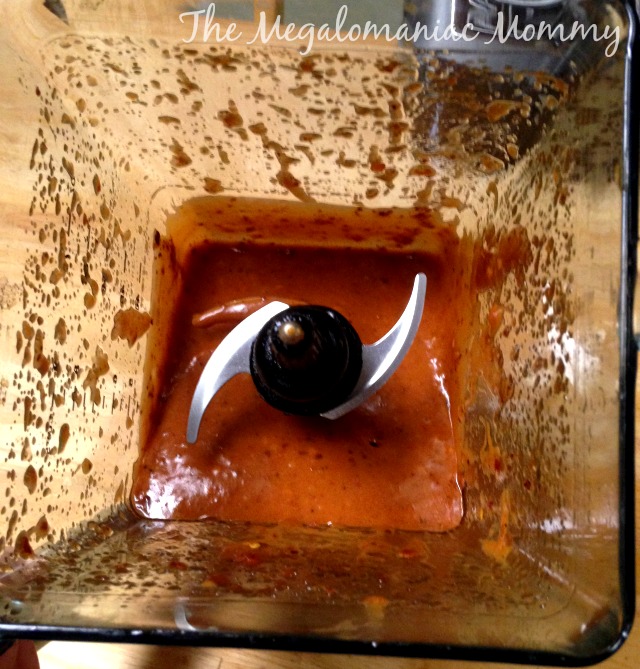 Once the sauce was done, we prepped the rest of the ingredients for the meal before we started cooking.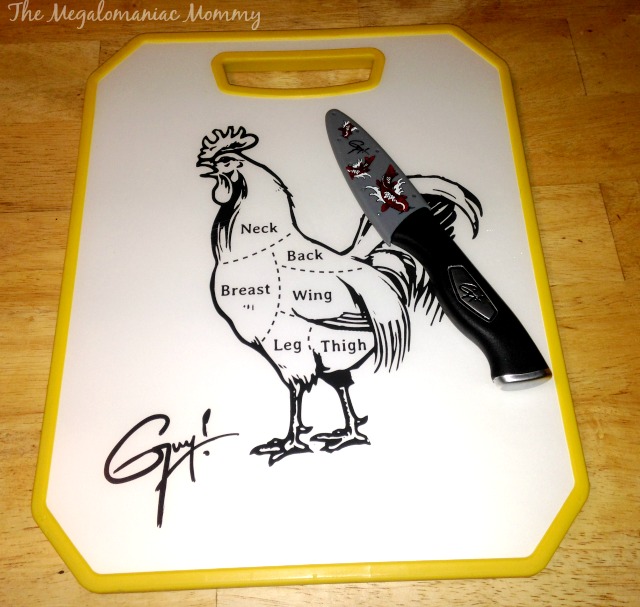 We used our new Guy Fieri cutting board (which was great because it is non slip), gourmet kitchen shears (amazing because they come apart for easy cleaning) and paring knife (cuts like butter) to get everything ready.
Once we had everything prepped, it was time to start cooking. We started off by getting the water boiling in the 6 quart stockpot.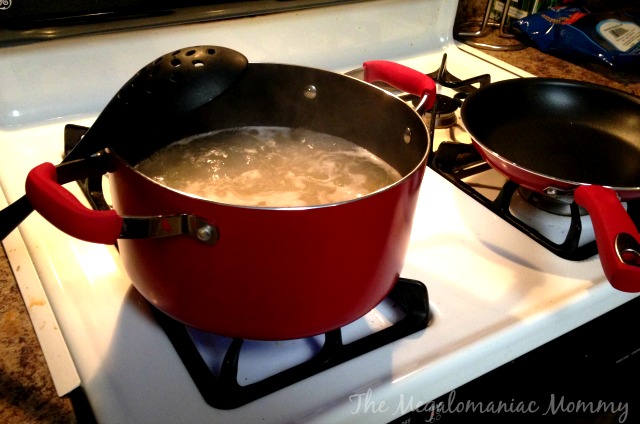 Once the water was going and our pasta was cooking we took out the 10 inch non-stick frying pan and cooked up the chicken and the sausage.
After our protiens were cooked it was time to add in the rest of our ingredients and get everything ready to serve!
Of course, as much as we loved making this dish, we really LOVED eating it!
Here is our spin on Guy Fieri's Penne with Cajun Hot Links and Chipotle Shrimp.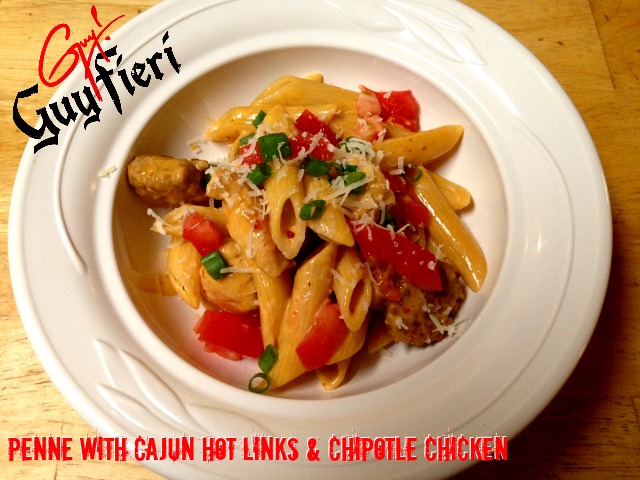 This is Guy's version of the dish below.
I don't think we did too bad!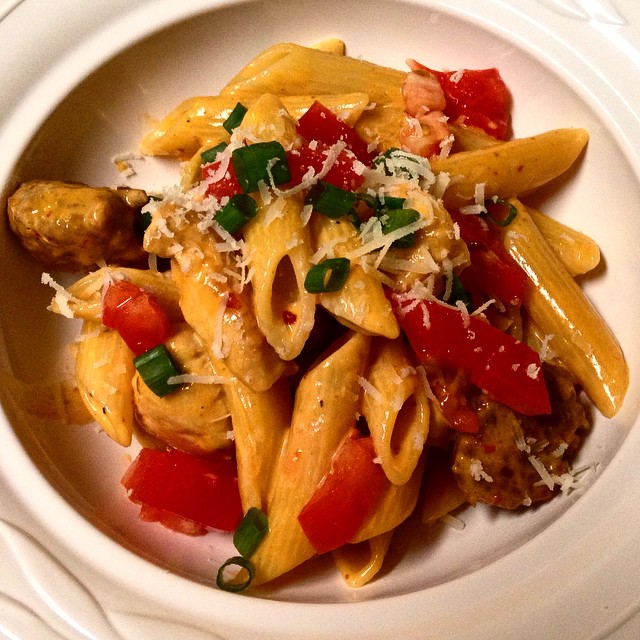 PENNE WITH CAJUN HOT LINKS AND CHIPOTLE CHICKEN
2014-11-10 00:29:26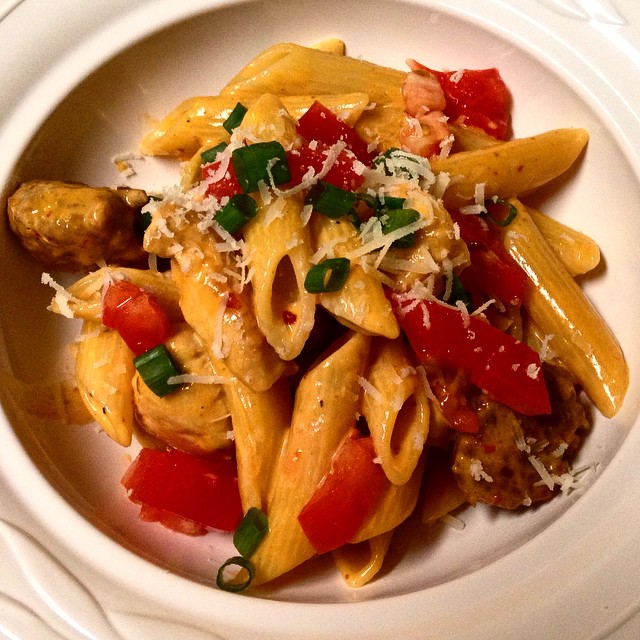 Serves 4
Ingredients
1-ounce olive oil
4 hot Italian pork suasages, cut in slices. (*Original recipe calls for: 4 hot links, all beef, cut in 6 bias slices).
3 chicken breasts, cubed (*Original recipe calls for: 20 (21/25 shrimp), deveined, shelled and butterflied)
2 cups heavy cream
1 cup Chipotle Sauce, recipe follows
1/2 teaspoon sea salt
1/2 teaspoon ground black pepper
1 pound cooked penne pasta
1/2 cup Parmesan, grated plus more for serving
1 tablespoon diced Roma tomato
1 tablespoon diced scallion
*CHIPOTLE SAUCE
1 -1/2 cups BBQ sauce
3/4 cup canola oil
1/3 cup lemon juice
3/4-ounce Dijon mustard
1 to 2 chipotle peppers in adobo
3/4-ounce red chili flakes
1/3 teaspoon cayenne pepper
1/3 teaspoon ground black pepper
*(Combine all ingredients in blender, puree, cover and refrigerate.)
Instructions
In saute pan over high heat, add olive oil and hot links. Sear links until browned. Add the shrimp and cook until pink. Lower heat to medium. Then add cream, 3/4 of the Chipotle Sauce, salt and pepper. Add cooked pasta and the cheese. Toss to combine.
Serve in pasta bowl and garnish with diced tomato, scallions, more sauce, if desired, and grated Parmesan.
Notes
*Please note our substitutions.
*The chipotle sauce definitely makes more than needed for the recipe so you can cut it in half and have more than enough. (We're using our excess sauce to make some wings).
The Megalomaniac Mommy http://themegalomaniacmommy.com/
The following two tabs change content below.
Anne is a 30-something full-time SAHM mom of 5 ranging from 3 to 17 and grandma of 1 who resides in Ashwaubenon (Green Bay) Wisconsin. She started blogging in 2008 as a way to regain her sanity. She enjoys coffee, chocolate, cheeseburgers and vodka along with spending time with her husband and kids.
Latest posts by Anne Younger (see all)