*This post is brought to you by Disney Publishing. I received a promotional item in order to facilitate this review. All thoughts and opinions are my own. This post may contain affiliate links.*
Reading is something that everyone in our family enjoys doing. Alex's reads at least 1 book a week, I read whenever time allows for it (usually 1 book a month), the kids all enjoy reading. Ellie is really into books these days. She loves to read them too you as well as have your read them to her.
Since we read so many kid books, I like to add new ones to our collection from time to time and offer the kids a variety. Here are a few new books that we have acquired thanks to our friends at Disney Publishing.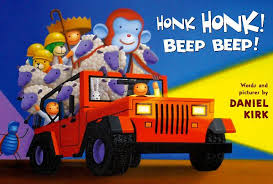 Honk Honk! Beep Beep! by Daniel Kirk, is the tale of a father and child who rise early for a trip to watch the sunrise on the mountaintop. Along the way they meet many friendly faces, some headed the same direction, and others in their own vehicles—big rigs, bulldozers and trains–with their own places to go and things to do.
I love this book for the kids! It says it is for kids ages 3-5 and Alexander and Ellie are both outside of that age group and they love it. I'm a huge fan because it is a board book that is nice and sturdy and I don't have to worry about it getting ruined. The kids love it because of all of the vehicles in it. Alexander is big into all things construction, trains, monster trucks etc, so this book is perfect for him. As for Ellie, she asks a million questions when we ready and wants to know what everything is!
Another great book we've added is Big Rig by Jamie A. Swenson, an early literacy storyteller and librarian at the Hedberg Public Library in Janesville, Wisconsin where she shares fabulous books with children and adults.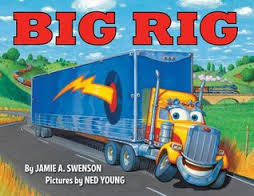 In Big Rig, children can go along for the ride as Frankie the big rig truck takes us on the job, driving past kiddie cars (school buses) and land yachts (RVs). Hear the horn blow and the wipers schwat the windshield clean. But, BANG! SHHUUU! Uh-oh: a blow-out! Don't worry, a service truck saves the day so we can get the job done and make a very special delivery.
This book is soooooo stinkin' cute! The story is great and the kids love to make up their own sounds as we read it and really have a good time. I am absolutely crazy over the beautiful illustrations by Ned Young and love how you makes everything so much fun to look at. Ellie calls this book her Smiley Truck!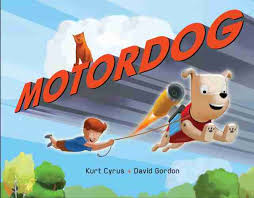 Motor Dog by Kurt Cyrus, is a tale of a boy and his robotic best (canine) friend. When Scoot the Cat comes on the scene, Motor Dog does what any normal dog would do: gives chase! Our boy Flip does everything he can to call him off, but no commands—verbal or electronic—can stop his new dog. When Flip runs after his malfunctioning pet, things go haywire! Will Motor Dog come through when Flip's in danger?
Where do I begin about how awesome this book is? It is so awesome that Alexander and Ellie are now conviced that at least one of our dogs is a robot and can fly! Alexander also believe that since Motor Dog does what he can to save Flip when he is in danger that Bubba or Magoo will come to the rescue if he is ever in trouble!
All 3 of these great books are aimed at children ages 3-5 and start at $6.99.
The following two tabs change content below.
Anne is a 30-something full-time SAHM mom of 5 ranging from 3 to 17 and grandma of 1 who resides in Ashwaubenon (Green Bay) Wisconsin. She started blogging in 2008 as a way to regain her sanity. She enjoys coffee, chocolate, cheeseburgers and vodka along with spending time with her husband and kids.
Latest posts by Anne Younger (see all)