As you may have noticed from recent blog posts, Ellie is becoming quite the little Diva Fashionista. She is very independent, likes to pick out her clothes every day and Joey's, and she loves all things girly.
Since Ellie is home with me full-time, I like to find fun, quiet things for her to do during the day when Joey is napping. Since naptime is my main worktime, giving her an activity that she can do by herself for a bit really helps me.
Great Pretenders, a company in Canada, has some great pretend play products for kids including costumes, and some really neat products like Colour A Cape or Colour An Apron and more.
Since Ellie really enjoys coloring and it's a quiet activity, I teamed up with Great Pretenders and Ellie is now happily occupied with a Colour An Apron.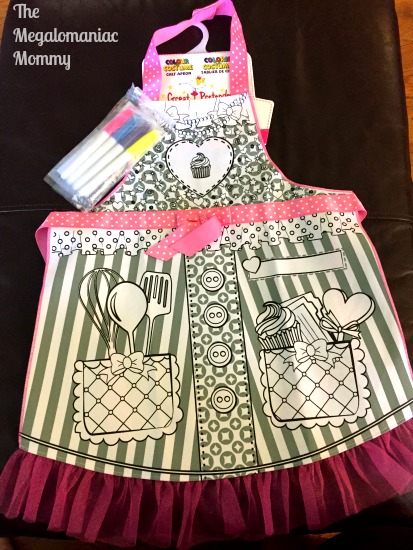 The Colour An Apron is a functional apron that kids can color with washable markers (included) that wash off your hands and everything else, but are designed to stay on the apron fabric.
Ellie loves to sit and color her pretty apron every chance she gets. This apron is covered with polka dot gingham ribbons and a pink glitter tulle ruffle. Of course, since there is pink, Ellie is thrilled.
I did take a few moments to color with her and I see why she enjoys it so much.
The apron is machine washable and the marker will stay on the apron but the color may fade a little. We haven't washed ours yet as Ellie is still in the process of coloring it. She does a little whenever she has a chance.
She did get quite a bit finished on day one and of course, she had to put it on and model it for me as well.
Since day one, she has worked on it a few more times and she will continue to work on it until it's done.
I'm happy she has something that she really enjoys doing as well as something to occupy her some mommy can get a little work done during the day.
Get It
You can order your own Colour An Apron by visiting Great Pretenders online for just $20.00 plus shipping (order before the end of May and use code FSMAY15 and get FREE SHIPPING!).
Connect
Don't forget to connect with Great Pretenders on Facebook and Twitter so you don't miss out on any new items or specials.
The following two tabs change content below.
Anne is a 30-something full-time SAHM mom of 5 ranging from 3 to 17 and grandma of 1 who resides in Ashwaubenon (Green Bay) Wisconsin. She started blogging in 2008 as a way to regain her sanity. She enjoys coffee, chocolate, cheeseburgers and vodka along with spending time with her husband and kids.
Latest posts by Anne Younger (see all)