Hooray! Hooray!
It's the 24th of May!
Gnomeo & Juliet is available in stores TODAY!!
Have I mentioned yet just how much we love this movie?
It is definitely one of our favorite movies this year.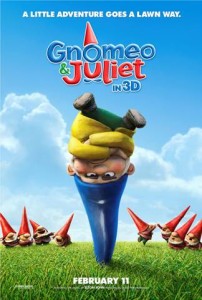 This movie is super cute and funny for both the kids and the adults not to mention that it contains some pretty darn good music too!!
Bonus features include:
DVD & Movie Download:
-Elton Builds a Garden
-Frog Talk with Ashley Jensen
-"Crocodile Rock" Music Video, featuring Elton John and Nelly Furtado
Blu-ray:
-DVD Bonus plus:
-2 Alternate Endings with Filmmaker Introductions
-Deleted & Alternate Scenes with Filmmaker Introductions, including:
-1 Alternate Opening
-1 Alternate Scene
-6 Deleted Scenes
-The Fawn of Darkness, featuring Ozzy Osbourne
We really like the Crocodile Rock music video and the little man loves to dance to it. He is also still convinced that he is Gnomeo and I am Juliet!
If you are getting ready to head out and grab this movie be sure to do it before May 29th and save yourself $5.00 with this awesome coupon HERE!
Disclaimer: This promotion was based on using information provided by Walt Disney Studios Motion Pictures. Walt Disney Studios Motion Pictures does not represent or warrant the accuracy of any statements or product claims made here, nor does it endorse any opinions expressed within this blogsite. The opinions stated from me are 100% mine and they are my true thoughts on this film.
The following two tabs change content below.
Anne is a 30-something full-time SAHM mom of 5 ranging from 3 to 17 and grandma of 1 who resides in Ashwaubenon (Green Bay) Wisconsin. She started blogging in 2008 as a way to regain her sanity. She enjoys coffee, chocolate, cheeseburgers and vodka along with spending time with her husband and kids.