*This post is made possible by JOLLY TIME Pop Corn. I received a promotional item in order to facilitate this review. All thoughts and opinions are my own. This post may contain affiliate links.*
It's no secret that Fall is my favorite time of year. I love the weather, the changing of the leaves, the holidays and the smell of the air. Another thing I enjoy about this time of year is the fall snacks!
Now that we've wrapped up a disappointing Halloween, we are ready to move on through the next few weeks and prepare for Thanksgiving.
Fall is a great time of year to start creating some delcious treats for the family and just before Halloween, the teenagers and I created some delicious pop corn balls using JOLLY TIME Microwave Pop Corn to celebrate National Popcorn Month with the littles.
I was really hoping to share this post with you earlier, however with Peanut's surgery, I just ran out of time. The great thing is, pop corn balls can be enjoyed year round and so can this great recipe for Caramel Corn Apples (we added some fall colored M&M's and decorated them with frosting spiders).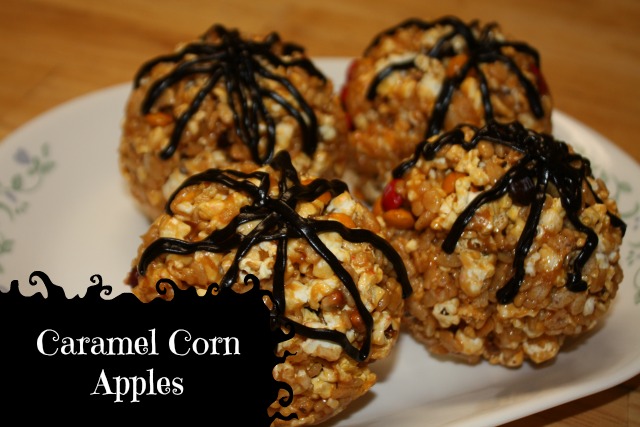 You can make these delicious treats by following the recipe below:
Caramel Corn Apples
6 cups popped JOLLY TIME Blast O Butter or Butter Licious Microwave Pop Corn
2 cups crisp rice cereal
1/2 cup chopped dried apples
1 package (14 oz.) caramels, about 48, unwrapped*
2 Tbsp. water
2 Tbsp. butter or margarine
1 tsp. ground cinnamon
Wooden sticks
Here's How:
Place popped popcorn, rice cereal and apples in large bowl. In medium saucepan over low heat, heat caramels, water and butter until caramels are melted, stirring frequently. Stir in cinnamon. Pour caramel mixture over popcorn and toss to coat well. Let cool about 5 minutes. With slightly dampened hands shape into 8 balls around wooden sticks. Place on lightly-buttered wax paper to set. Wrap in plastic wrap; tie with a ribbon. Microwave caramels, water and butter in medium microwave-safe bowl on HIGH 2-1/2 to 3 minutes or until smooth, stirring every minute.
Yield: 8 popcorn balls
*This recipe is being used and shared with permission by JOLLY TIME Pop Corn.
This was our first time making pop corn balls and I couldn't believe just how easy it was! The kids all enjoyed these so much that we are planning on creating some pop corn ball turkeys for a special Thanksgiving treat!
Connect:
The following two tabs change content below.
Anne is a 30-something full-time SAHM mom of 5 ranging from 3 to 17 and grandma of 1 who resides in Ashwaubenon (Green Bay) Wisconsin. She started blogging in 2008 as a way to regain her sanity. She enjoys coffee, chocolate, cheeseburgers and vodka along with spending time with her husband and kids.
Latest posts by Anne Younger (see all)