*This post is brought to you by our friends at Dollar Tree. I received compensation in order to facilitate this post. All thoughts and opinions are my own. This post may contain affiliate links.*
We are quickly closing in on my favorite time of year. Call me crazy, but I absolutely love fall! I love the colors, the weather, the leaves fall, the smells, I just love everything about it….it's the reason we were married in October. I wanted wild flowers, fall colors, and leaves on the ground.
Since we moved, I have done much seasonal decorating around the house. We've done a few things outside for the holidays and put out a couple of things around the house the last two years but I have yet to go all out crazy with decor.
Until now.
I plan to go crazy this year and decorate until my heart is content and nobody is going to stop me. I've been pinning crafts, creating in my head and tonight, after a trip to Dollar Tree, I created my first two pieces of fall decor.
Dollar Tree is filled with sooooo much fall decor right now, I'm already planning a return trip to grab a few more things. Shhhhh…..don't tell Alex.
On this trip, I grabbed some items that I just loved without really having a plan. I figured I would just figure it out when I got home and I'm happy to say, it was a success!
Here is everything I grabbed for $17.94.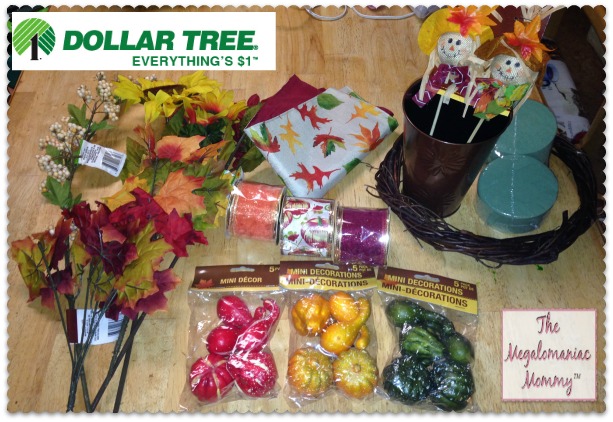 One thing I knew I had to get and use somehow were some of my favorite fall flowers. I grabbed a variety of sunflower bushes and fall leaves as well as some mini ornamental pumpkins and gourds in assorted colors. From there I stumbled upon some beautiful ribbons, a premade branch wreath form and along with a few other items and then made my way home and began crafting.
Once I laid everything out in front of me, it didn't take long for me to decide what I wanted to do. This is when my first fall craft project turned into two!
For less than $20, I made these two crafts for our home.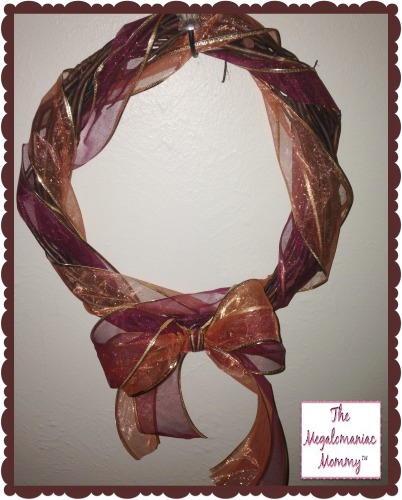 A wreath decorated with burgandy, orange and gold now hangs on the wall in our living room.
With the remaining items I purchased, I created this fall centerpiece for our kitchen table and I absolutely love the way it turned out!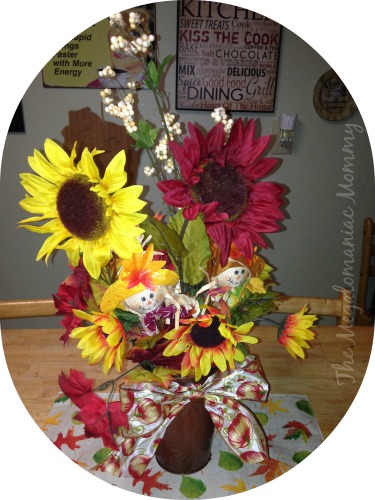 I am looking forward to doing a few more fall crafts as well as purchasing some fall decor from Dollar Tree as well when I return to the store next week.
What is your favorite thing about fall?
Connect
You can connect with Dollar Tree on Facebook and Twitter.
The following two tabs change content below.
Anne is a 30-something full-time SAHM mom of 5 ranging from 3 to 17 and grandma of 1 who resides in Ashwaubenon (Green Bay) Wisconsin. She started blogging in 2008 as a way to regain her sanity. She enjoys coffee, chocolate, cheeseburgers and vodka along with spending time with her husband and kids.
Latest posts by Anne Younger (see all)