By definition Frazzled means:
1. To wear away along the edges; fray.
2. To exhaust physically or emotionally.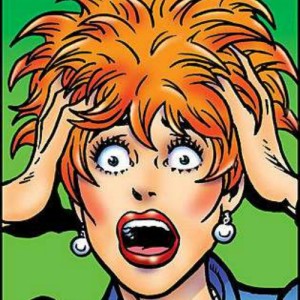 Now how does that relate to me?  This entire week has been crazy!
Let's start with definition 1. To wear away along the edges; fray –
to me – I have worn away more this week. This can be noted by the substantial amount of new gray hairs I have located in my mop top this week! I am wearing away—-I am fraying…..kids—-they will do that to you!
On to definition 2. To exhaust physically or emotionally- I have reached both of these points this week.  Between the start of 2 kids in organized sports on the same night of the week, lack of quality time with my husband, a baby with a fever of 103.5 for the last 48 hours, lack of sleep and personal time—–oh and after the numerous hours I spent tonight trying to keep up with the happenings for Mom's Night Out (that right there was enough to fry my brain).
I am by definition FRAZZLED!
It wouldn't surprise me if when you read this it makes absolutely no sense since I am just that frazzled!
I plan to take a hiatus from the blogosphere for the weekend so that I may enjoy my Mother's Day with my family.
(Even if that means I'm going to drive to Madison and back just to pick up a swing set from a high school friend so my little guy doesn't have to play on the old rusted out one we currently have. Did I mention that this friend is giving this to me and it's valued at $450—it's a Little Tikes one—YAY! so excited!)
Oh, plus I have to clean the house, go grocery shopping, pay some bills, get a gift for my mom and have the Alex get one for his and then go to my sister's on Sunday for a Mom's Day lunch and find time to go see my MIL too…all while enjoying my Mother's Day weekend and spending time with my family.
Again…..does any of this even make any sense anymore?
I'm hanging up the towel.
I'm calling it a night!
I promise myself, I will try my hardest to stay out of the blogosphere until Monday….I will….I will try…

The following two tabs change content below.
Anne is a 30-something full-time SAHM mom of 5 ranging from 3 to 17 and grandma of 1 who resides in Ashwaubenon (Green Bay) Wisconsin. She started blogging in 2008 as a way to regain her sanity. She enjoys coffee, chocolate, cheeseburgers and vodka along with spending time with her husband and kids.
Latest posts by Anne Younger (see all)