*This post is brought to you by Ryan Lakey Jasso, Independent Jamberry Nails Consultant. I received a promotional item in order to facilitate this review. All thoughts and opinions are my own. This post may contain affiliate links.*
If you are on any form of social media than I am sure you have heard of Jamberry nails. I have a few friends that sell it and a lot who host parties on Facebook and a lot who just love Jamberry Nails.

For those of you who are have not heard, Jamberry Nails offers decorative nail wraps that are worn in place of traditional nail polish that do not chip and can last for weeks. These nail wraps can be used on fingers, toes and safely on little kids too! Jamberry also offers a complete line of traditional polishes as well along with different accesories and you can even design your own wraps!
Since my feed has been filled with things about Jamberry Nails for a few months, I figured it was time that I check it out and see what it's all about.
Thanks to Ryan Lakey Jasso, an Independent Jamberry Nails Consultant, I have now expereinced my first Jamicure. Ryan was kind enough to send me some wraps to try along with some basic tools.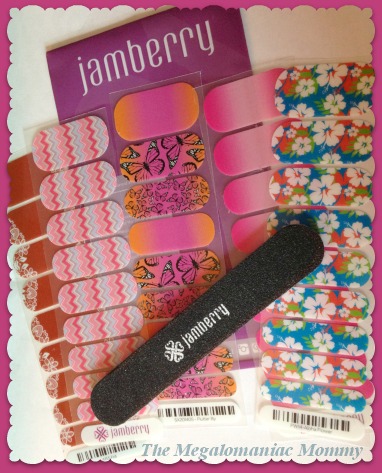 I have to admit, the first problem I had was choosing which design to do first. I finally decided on a mix of the Chevron and Ombre designs (seen above).
I'm going to be honest with you, there is a learning curve when it comes to applying the Jamberry wraps for the first time. It did take some getting used to. Thankfully there are tutorials available online for first time users that offer different tips.
I have to say, for it being my first time, I think I did pretty good.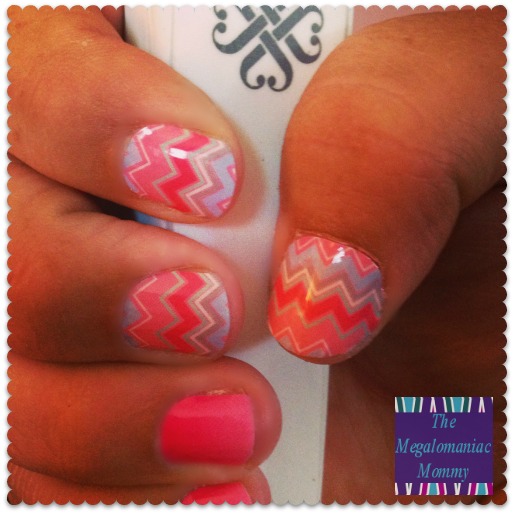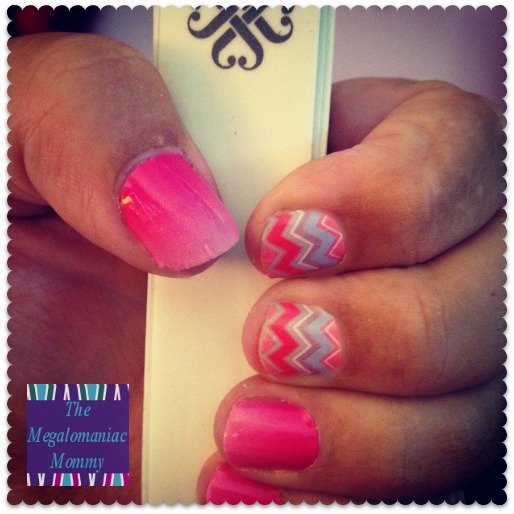 I'm pretty good at applying them on others and am hoping the more I try I get better with mine. I, personally, wouldn't wear them everyday since I am usually at home and most of the time still in my pajamas or loungewear (the life of a stay-at-home/work-at-home mom) but if I were getting ready for a special occasion they would be great!
If you would like to learn more about Jamberry Nails, please contact Ryan today!
Connect
You can connect with Ryan and Jamberry Nails on Facebook for a sample. The new Jamberry catalog comes out September 1st so be sure to check out the wraps that will be going….going….gone before it's too late to get them!
Thanks again, Ryan, for this opportunity and for sharing Jamberry Nails with me!
The following two tabs change content below.
Anne is a 30-something full-time SAHM mom of 5 ranging from 3 to 17 and grandma of 1 who resides in Ashwaubenon (Green Bay) Wisconsin. She started blogging in 2008 as a way to regain her sanity. She enjoys coffee, chocolate, cheeseburgers and vodka along with spending time with her husband and kids.
Latest posts by Anne Younger (see all)