Over the years, I have kept clothes that have belonged to each of the kids and I've done it for different reasons. There are some of their things that I kept to use as part of a blanket and others that I want to have for them to pass on to their kiddos someday.
I love the idea of creating a family keepsake that can get passed on from generation to generation and the clothing from Feltman Brothers makes the perfect keepsake.

Feltman Brothers offers a distinctive collection of finely crafted, classic styled clothing and accessories for the little loved ones in your lives. Their products are available in sizes newborn to toddler. Founded in 1916, Feltman's has a long history of providing high quality, exquisitely styled, hand embroidered clothing for baby boys and girls. The Feltman Brothers collection began with our line of hand-made dresses and because of its soaring popularity, we soon expanded to include Christening gowns, rompers, bubbles, body suits, booties, bonnets, blankets, and more. Most things change over the years, but at least one thing remains true to its glorious start. All of the Feltman outfits are created with the same workmanship as in 1916. There is simply no replacement for the kind of hand detailing used in our vintage styled baby clothing collection. We are proud to continue offering you the very best for your baby.
We received a Teddy Bear Bobby Suit to check out and I love the vintage style and look of it.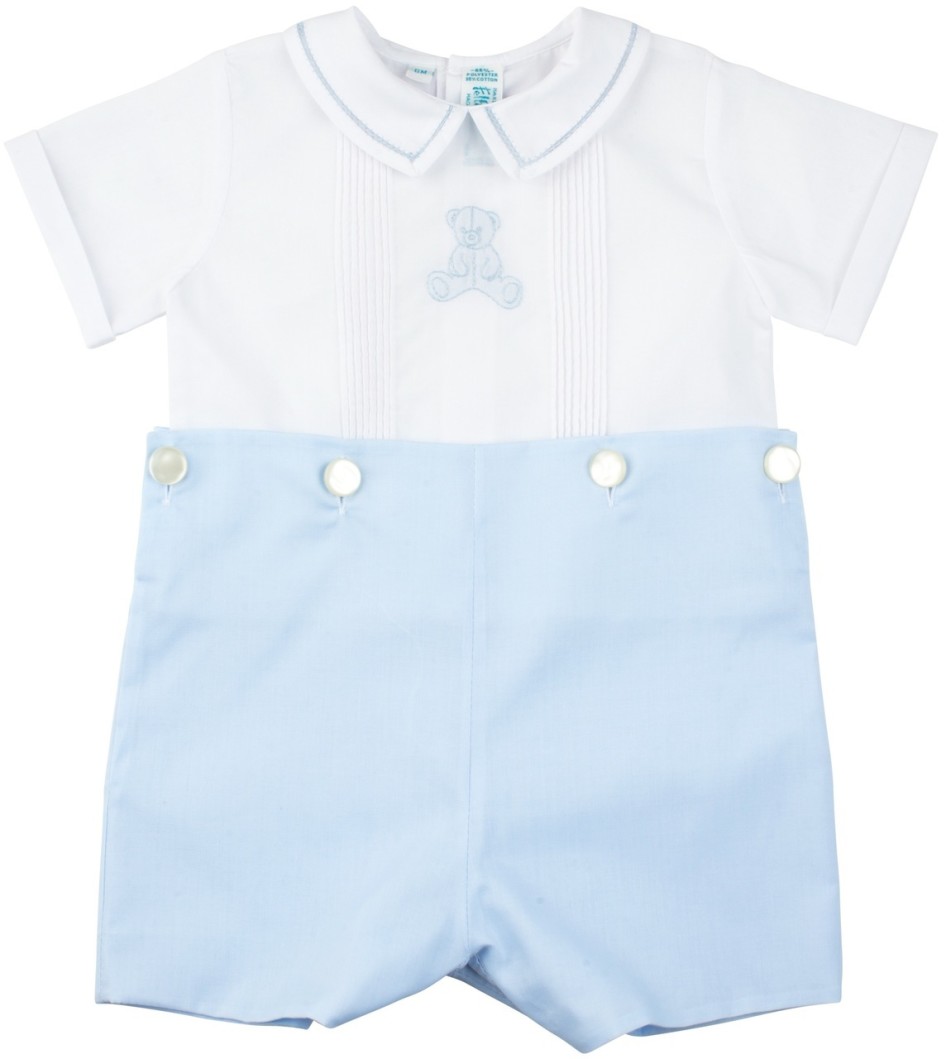 This outfit is so cute and classic that I wish I would have had something like this for all of the boys to wear for their baptism, it's the perfect outfit for those special occasions.
I love the hand embroidered details on this bobby suit and can only imagine the time and concentration it takes to create each of these beautiful pieces.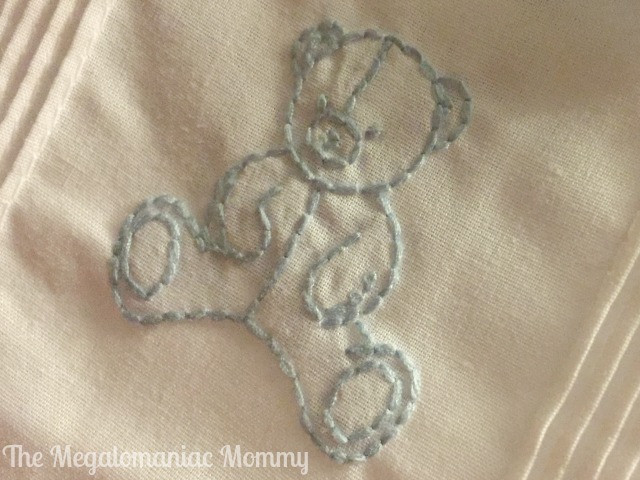 The Teddy Bear on the front is perfectly stitched as well as the detail work on the collar.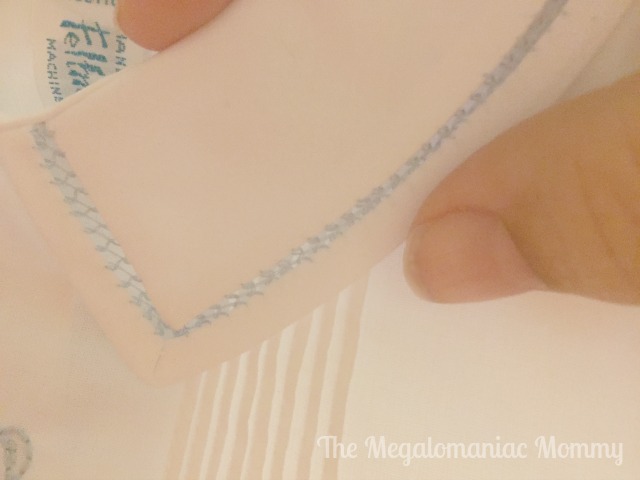 These pieces on the collar are held together with tiny blue stitching.
This is Joey in a size 18 month (he's 17 months) and it's a little snug, but he's a REALLY big boy. I think he looks absolutely adorable in it and am happy he got to put it on just once.
I would love to order a dress for Ellie for Easter as I think this sleeveless dress with pintucks and lace in the subtle pink and a sweater would be perfect for her.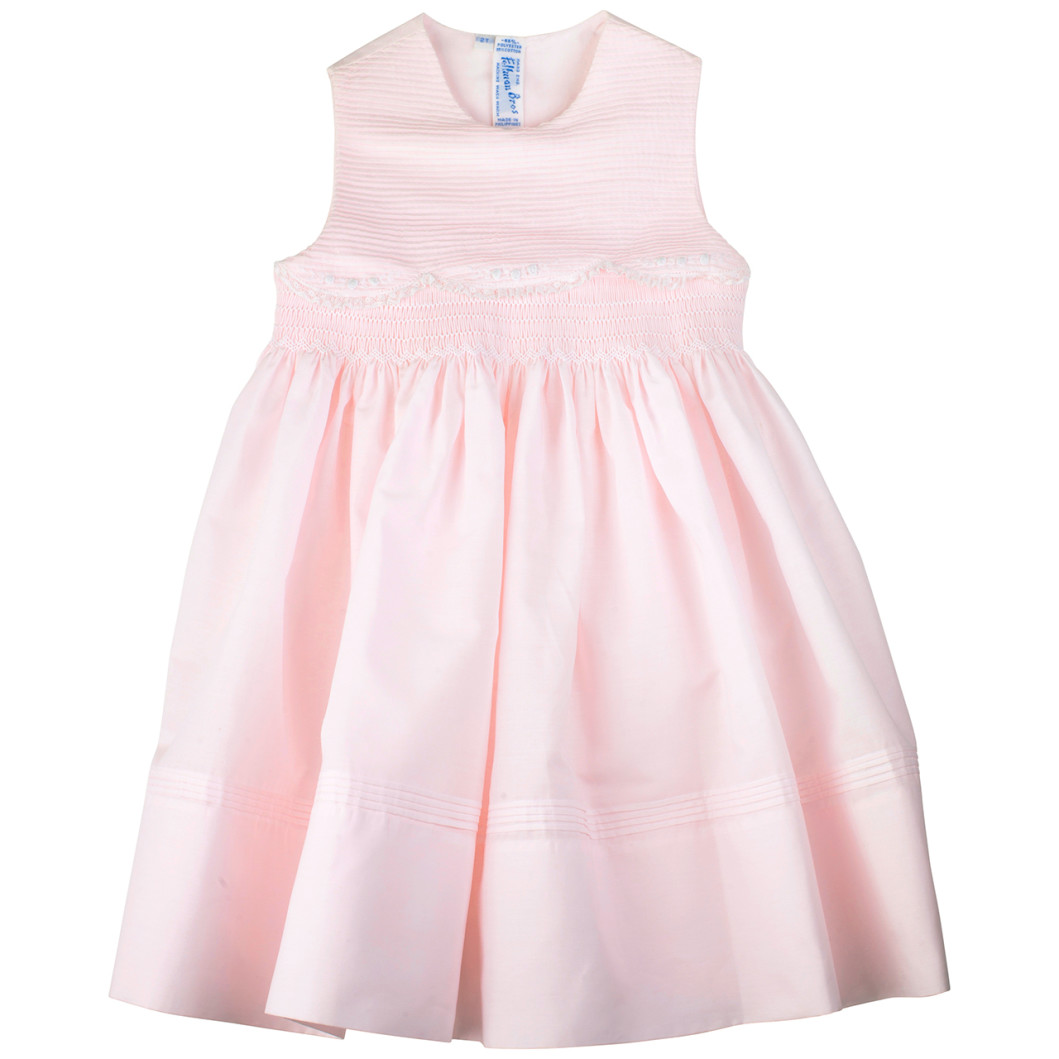 You can find these great, hand embroidered, heirloom pieces from Feltman Brothers on their website and are available in baby/toddler girl and baby/toddler boy sizes up to 4T.
Be sure to connect with Feltman Brothers on Facebook, Twitter and Instagram.
The following two tabs change content below.
Anne is a 30-something full-time SAHM mom of 5 ranging from 3 to 17 and grandma of 1 who resides in Ashwaubenon (Green Bay) Wisconsin. She started blogging in 2008 as a way to regain her sanity. She enjoys coffee, chocolate, cheeseburgers and vodka along with spending time with her husband and kids.
Latest posts by Anne Younger (see all)