As a plus sized woman, I've always struggled with finding cute clothing in my size.  For some reason, clothing manufacturers/designers feel that all plus sized women enjoy wearing things covered in flowers, sequins, rhinestones, cartoon characters, animals and other unattractive items!
When I am on the hunt for new clothing, I often turn to the internet to shop for new garments. Recently, some of my best purchases have come from websites that cater to the plus-sized woman and offers clothing that is in style and current with the latest trends.


Fashion to Figure is one of those sites. Not just web based, Fashion to Figure also offers a store front for the traditional shopper as well for those on the East coast.
FTF offers some of the cutest and stylish plus size clothing I have laid eyes on. I had the pleasure of checking out the Maxi Dress with Braided Straps in black.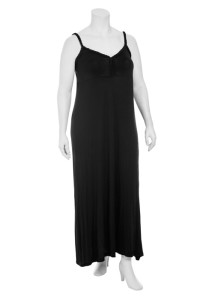 This dress is by far one of the comfiest pieces of clothing I have ever owned. I chose this particular dress so I could wear it while I was in Los Angeles this past August. It was the best decision for me because it worked well with both my baby bump and my flip flops plus I could dress it up with jewelry, scarves and other accessories or just keep it nice and simple.
Knowing that my pregnancy is getting closer to the end, I am getting anxious to pick up a few new items for myself as my body begins to recover and I begin to shed some pounds. I will always be a plus size girl, even if I lose a bunch of weight, because plus sized is me. I don't want to be the skinny girl and I'm sick of being the fat girl. I'm just looking forward to being me…the cute plus sized woman my husband fell in love with and I am looking forward to dressing that body!
Here are a few of the items I cannot wait to pick up from Fashion to Figure.
The Jersey Deep V-Neck Top with Beaded Waist and this Asymmetrical Knit Top with Rainbow Stripes.
I can't wait to start shopping!!
Disclaimer: I received a free product in exchange for my honest review. All thoughts and opinions are my own.
The following two tabs change content below.
Anne is a 30-something full-time SAHM mom of 5 ranging from 3 to 17 and grandma of 1 who resides in Ashwaubenon (Green Bay) Wisconsin. She started blogging in 2008 as a way to regain her sanity. She enjoys coffee, chocolate, cheeseburgers and vodka along with spending time with her husband and kids.
Latest posts by Anne Younger (see all)