I remember going on a class trip……20 years ago to the movie theater to see Fantasia on the big screen. We were going as part of our music education since the film incorporates Western classical music as Leopold Stokowski conducts the Philadelphia Orchestra. Immediately, I was hooked.
I remember my mom buying it for the family on VHS and I remember watching it over and over and over.
And, I still own that VHS version of it.
Then Disney went and did something totally AWESOME!
They went a created Fantasia 2000!
Fantasia 2000, is the awe-inspiring extravaganza of sight and sound, executive produced by the late Roy E. Disney. Featuring an array of celebrity hosts including Steve Martin, Bette Midler, James Earl Jones, Penn and Teller, Angela Lansbury, Itzhak Perlman and Quincy Jones, the film, like its predecessor, expertly visualizes classical music compositions with various forms of animation and live-action introductions. Fantasia 2000 is primarily performed by the Chicago Symphony Orchestra, and conducted by James Levine.
This film was equally impressive.
And then….
Disney went and did something unbelievably AMAZING!
On November 30th 2010, they released this……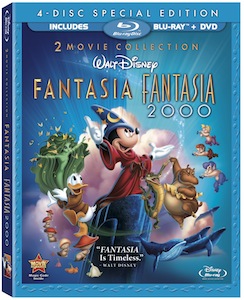 Oh yeah!
Fantasia and Fantasia 2000 packaged together on DVD and Blu-Ray!
And my kids were able to see Fantasia as they had never seen it before!!!!
Not to mention the Blu-Ray also includes the Academy Award nominated short Destino in the special features section.
The special features on these discs do not disappoint.
It's JAM packed!
Here's a little summary:
Fantasia DVD Bonus Features:
• New Audio Commentary with Disney historian Brian Sibley
• Disney Family Museum (running time: approx. 5 minutes) – Walt's daughter Diane Disney-Miller takes viewers on a tour of the new Disney Family Museum in San Francisco, California featuring a very large exhibit on Fantasia and most importantly, the Schultheis notebook with long lost Fantasia production notes found in more recent years in the walls of a convent.
Fantasia Blu-ray Bonus Features: Everything on the DVD plus:
• Disney View – This viewing mode maximizes the Blu-ray viewing experience with a 16 x 9 aspect ratio. Original artwork created by a Disney artist, in a style that complements the beauty of the film.
• The Shultheis Notebook: A Disney Treasure (running time: approx. 14 minutes) –An in depth look at the recently discovered Schultheis Notebook. The detailed log was created by Herman Schultheis, an effects man on Fantasia, and intricately breaks down the film from a technical view. Many of the special effects used in Fantasia were a mystery to modern day animators until this notebook was recovered.
• Interactive Art Gallery and Screensavers – Viewers can explore the artwork of Fantasia as never before, in HD resolution with unique Blu-ray interactivity and programming.
• Audio Commentaries from Fantasia Legacy Collection o With executive producer Roy E. Disney, conductor James Levine, animation historian
John Canemaker, and Scott McQueen, manager of film restoration.
Audio commentary with interviews and story note recreations by Walt Disney, hosted by John Canemaker.
Fantasia 2000 DVD Bonus Features:
• Musicana – Walt's Inspiration for a Sequel (running time: approx. 10 minutes) – This documentary reveals rarely-seen art created for Musicana, a late 1970's project intended as a Fantasia sequel with a focus on exploring other cultures via their greatest musical compositions. Viewers are offered a look at the origins of pieces that were started by Walt, such as "The Emperor and the Nightingale" which was then taken over by a very young John Lasseter. Ultimately, Musicana was stopped to begin production on "Mickey's Christmas Carol," but the memories of this piece still live on with the animators who conceived it.
Fantasia 2000 Blu-ray Bonus Features: Everything on the DVD plus:
• Dali & Disney: A Date With Destino (running time: 82 minutes) – This feature length documentary explores the collaborative relationship between Walt Disney and Salvador Dali, revealing how and why the Destino short came to fruition under the lead of Roy E. Disney in 2003 so many years after its inception in 1946.
• Destino (running time: approx. 7 minutes) – The legacy of Walt Disney and Salvador Dali lives on in this highly anticipated short film.
• Disney's Virtual Vault — BD-Live Feature Original DVD Bonus Features from Legacy Collection
• Audio Commentaries from Fantasia Legacy Collection (total running time: 84 minutes) With executive producer Roy E. Disney, conductor James Levine, and producer Don Ernst. Audio commentary with the directors and art directors for each segment.
Okay, maybe it wasn't a LITTLE summary.
As for my kids….they LOVED the movie.  At first my little guy was confused and scared that everything was movie with the music but he got over it the minute he saw his beloved Mickey Mouse!  For me, I will ALWAYS love this movie!
Now make sure you get your hands on a copy of Fantasia & Fantasia 2000 before it's locked securely in the Disney vault once again!
Disclaimer: This promotion was based on using a complimentary product provided by Walt Disney Pictures.Walt Disney Pictures do not represent or warrant the accuracy of any statements or product claims made here, nor does it endorse any opinions expressed within this blogsite. The opinions stated from me are 100% mine and they are my true thoughts on this film.
The following two tabs change content below.
Anne is a 30-something full-time SAHM mom of 5 ranging from 3 to 17 and grandma of 1 who resides in Ashwaubenon (Green Bay) Wisconsin. She started blogging in 2008 as a way to regain her sanity. She enjoys coffee, chocolate, cheeseburgers and vodka along with spending time with her husband and kids.