A successful family vacation needs the right destination and some good planning. Jacksonville, Florida, is a great spot for families because it appeals to people of all ages, interests, and abilities. There are miles of beautiful beaches, waterways, and parks to explore; many water sports, outdoor activities, and museums to enjoy; and plenty of places to shop and dine.
Here are a few tips to make Jacksonville even more family friendly.
When to Visit Jacksonville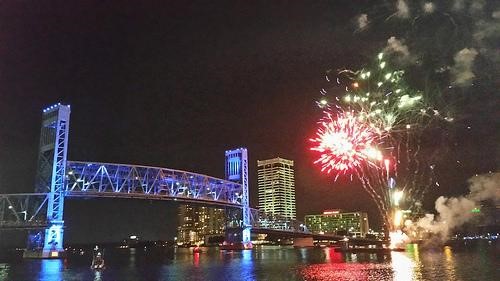 Image via Flickr by Michael Curi
A sunny climate and average high temperatures of 79.9 degrees F and lows of 55.9 degrees F make Jacksonville an ideal place for outdoor activities, especially water-related ones. When planning the timing and activities of your trip, remember that temperatures during summer months rise into the 90s. Small children and grandparents may prefer to visit Jacksonville in cooler months. If your group plans to spend most of the time at the beach, the heat of summer might be what you want.
How to Get to Jacksonville
The most stressful part of a vacation is often just getting there. Make car time fun with games like car bingo or an audiobook, and part-way through the trip surprise the kids with something new to do. Plenty of snacks and frequent roadside stops will help keep everyone happy.
If you prefer not to drive, Jacksonville is accessible by plane or train. Upon arrival, it's easy to rent a car or take a shuttle to your hotel. Walk, bike, or take the sky train, a bus, or a water taxi to the places you want to visit.
Where to Stay in Jacksonville
Jacksonville has both budget and luxury hotels, but price is not the only thing to consider when selecting family friendly accommodations:
l Do you need adjoining rooms or a suite?
l Would a complimentary breakfast make mornings easier?
l Is free wireless service important to you?
l Do you want a hotel right on the beach or with a pool?
Once you decide what's important, be sure to reserve your hotel before your trip.
Family Fun in Jacksonville
Besides the beach, there are many ways for families to have fun in Jacksonville. Here are a few ideas to get you started:
Jacksonville Zoo and Gardens
With the option to rent strollers, wheelchairs, and motorized scooters, everyone can enjoy a trip to the zoo!
Kono Skate Park and Adventure Landing
Active families with adventurous tweens and teens can skateboard at Kono Skate Park or enjoy laser tag, mini golf, and go-cart fun at Adventure Landing.
MOCA Jacksonville
The Museum of Contemporary Art (MOCA) has interactive programming for families and is an interesting place to visit when you'd rather be indoors.
Take plenty of photos during your vacation. Encourage children of all ages to keep a diary or create a scrapbook as a way to help them remember the trip when they are older.
For a family friendly vacation, plan to visit Jacksonville, Florida, and follow these tips. You will treasure your memories of this fun trip for many years to come.
The following two tabs change content below.
Anne is a 30-something full-time SAHM mom of 5 ranging from 3 to 17 and grandma of 1 who resides in Ashwaubenon (Green Bay) Wisconsin. She started blogging in 2008 as a way to regain her sanity. She enjoys coffee, chocolate, cheeseburgers and vodka along with spending time with her husband and kids.
Latest posts by Anne Younger (see all)