Summer is here and my kids are happy to be running around, sporting shorts, sandals and fun styles. As the days go by, Ellie is becoming more of a fashionista every day and she's even started styling Alexander and Joey!
Thanks to our friends at FabKids, all 3 kiddos were sporting some pretty sweet styles on our recent trip to Wisconsin Dells.
Joey is crazy about his awesome new pirate shirt, I even taught him to say Aarrgh! Both the shorts and the top are a size 2 and fit him just right and will definitely last him all summer long!
Now Alexander and this outfit….well, since they arrived, he pretty much lives in these shorts. He loves how soft they are, the funky pattern and even the colors. And here I thought he was going to think the pirhana t-shirt was the coolest this ever. Nope….the shorts, the shorts are his favorite thing.
Then there is Ellie.
Again, with the pink. This girl loves her some pink and wants to wear it all the time. Here she is wearing the Tiered Stripe Dress and Navy Fab Soft Leggings. What you can"t see is that she is rocking some seriously awesome kicks!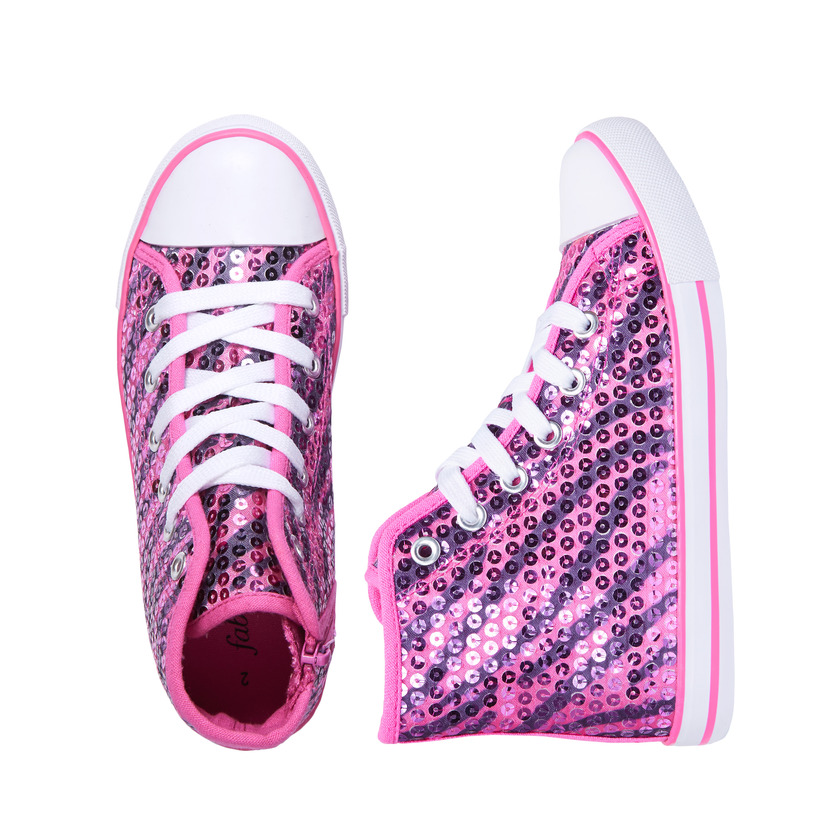 Now I have tried, sooooo many times to snap a pictures of Ellie wearing these Sequin High Tops but according to her the stripes make her super fast so she just can't stand still when she has them on!
I love these shoes because they have a zipper on the side and they are easy to get on and off her chunky feet and of course, they are pink so Ellie is thrilled!
Once again, FabKids was a hit and this time across the board with all 3 kids! I've already ordered a few additional items for each of them and they are loving them all!
What is FabKids?
FabKids was started by a team of parents to empower kids to express their individuality through personalized fashioins, while changing the shopping experience for parents by delivering a high-quality, reasonably priced, fresh style in just one click.
Become a VIP
Become a FabKids VIP and get a personalized FabShop on the 1st of every month. You'll receive new styles handpicked just for your kid by our style team each month and every Fabkids outfit starts at just $29.95.
Connect
Be sure to connect with FabKids on Facebook, Twitter and Instagram so you can stay on top of the new looks and styles!
The following two tabs change content below.
Anne is a 30-something full-time SAHM mom of 5 ranging from 3 to 17 and grandma of 1 who resides in Ashwaubenon (Green Bay) Wisconsin. She started blogging in 2008 as a way to regain her sanity. She enjoys coffee, chocolate, cheeseburgers and vodka along with spending time with her husband and kids.