I don't know how it's possible that the summer is coming to an end and my kids are getting ready to head back to school in less than 2 weeks.
Over the last few weeks, we've been busy shopping for school supplies, shoes, clothes and everything else the kids need for the new school year.
One of the best things about the school year is that we get to pick out some fabulous new clothes for the kids and of course, this is Ellie's favorite thing to do. That girl loves her clothes and dressing others.
Fab Clothes from FabKids
FabKids recently shared their back to school look book with us and Ellie wanted to start shopping right away. Seriously, for a 3.5-year-old girl, she has a slight obsession.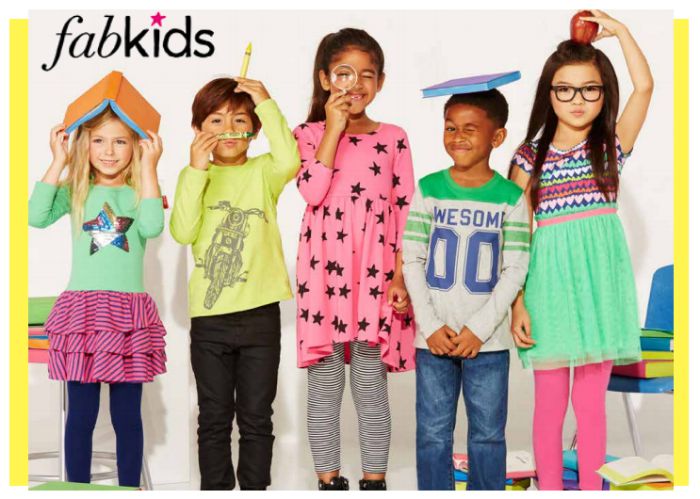 The new look book was packed with all kinds of things Ellie wanted but of course, she couldn't have it all. In the end, she decided on an outfit and shoes for herself as well as for Alexander.
Fab Boys Have Serious Style
At first, I was worried that Alexander would dislike the outfit Ellie had picked for him. You see, Alexander prefers to lounge in athletic pants and shorts and t-shirts and sweatshirts. That's just his style.
I was thrilled when he absolutely loved what Ellie had picked out for him! Here he is rocking the Rock Outfit which is the It's Only Rock & Roll Tee and Black Denim Skinny Jeans along with Skull Canvas Slip-on shoes.
I love how Alexander wears this look. He is this tall and thin 7-year-old boy and this outfit is great for his frame. I think he really likes it because he looks a lot like his big brother here.
Fab Fall Fashions for Girls
I know I've mentioned before that Ellie's signature color is pink and she would wear it head to toe every day if she could. Of course, every time she is picking out a new outfit, if it is pink, that is what she goes with.
Ellie's fall outfit of choice is this Stripe Star Student Outfit consisting of the Stargaze Hi-Lo Dress with Fab Striped Leggings and Glitter Fringe Fuzzies.
In true Ellie style, she pulls off pink better than any other kid I know. Now, you should know that when I took these pictures, we were outside and it was 85 degrees and humid out and that little girl of mine refused to take this outfit off the rest of the day. I think this means she really likes it!
Shop Back to School Sales and Save
Right now FabKids has some great back to school deals for you to take advantage of. Don't miss out on these great prices!
Dresses starting at $16.95
Sneakers starting at $19.95
Tops & Tees starting at $9.95
Tutus starting at $7.95
Leggings – choose any 3 for $19.95
I have a feeling we will be doing some more shopping!

Connect
Be sure to connect with FabKids on Facebook, Twitter, and Instagram to stay on top of the latest fashions.
The following two tabs change content below.
Anne is a 30-something full-time SAHM mom of 5 ranging from 3 to 17 and grandma of 1 who resides in Ashwaubenon (Green Bay) Wisconsin. She started blogging in 2008 as a way to regain her sanity. She enjoys coffee, chocolate, cheeseburgers and vodka along with spending time with her husband and kids.
Latest posts by Anne Younger (see all)