As Ellie gets older, she's not even 3.5 yet, she becomes more of a little fashionista. She already pretty much picks out what she is going to wear on a daily basis, how she wants her hair and exactly which (of the almost 30 pairs) shoes go perfect with her look.
Yes, she is my little fashionista nad she is so much fun!
Now that it's warming up, Ellie's outfits are showing off more color than ever and she is all about rainbows. For example, this is what she wore for a day of helping in the yard.
I love that she loves and embraces colors so much (especially pink) and I am willing to encourage her love for fashion, color and great hair!
When looking through some of the latest styles from FabKids, Ellie fell in love with the big, bold and colorful stripes in the Striped Skater Dress.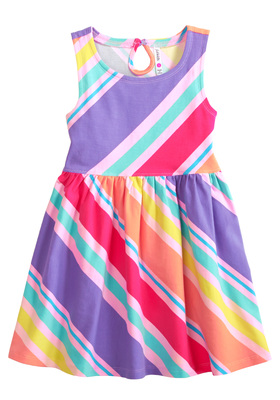 Of course, I should have known the colors would catch her eye and this outfit would become on of her favorites!
Pairing the FabKids Striped Skater Dress with a pair of Fab Soft Leggings and her favorite bright yellow bug shoes, makes for a very happy little lady!
I think the bright colors, along with the cute keyhole in the back are what makes this outfit pefect for a party or for play!
And yes, I said perfect for party or for PLAY!
Ellie doesn't let anything stop her from playing and having fun!
What is FabKids?
FabKids was started by a team of parents to empower kids to express their individuality through personalized fashioins, while changing the shopping experience for parents by delivering a high-quality, reasonably priced, fresh style in just one click.
Get this Look
You can get the Summertime Party Outfit look by visiting FabKids, for just $29.95!
Connect
Be sure to connect with FabKids on Facebook, Twitter and Instagram so you can stay on top of the new looks and styles!
The following two tabs change content below.
Anne is a 30-something full-time SAHM mom of 5 ranging from 3 to 17 and grandma of 1 who resides in Ashwaubenon (Green Bay) Wisconsin. She started blogging in 2008 as a way to regain her sanity. She enjoys coffee, chocolate, cheeseburgers and vodka along with spending time with her husband and kids.
Latest posts by Anne Younger (see all)