You know what is totally embarrassing?
Taking your jacket off in a public place and discovering that you have white streaks or antiperspirant all over your clothes.
Yes, this has happened to me and unfortuntately more than once.
Thankfully, as I have gotten older, I've become wiser and have learned that stick antiperspirant is just not for me and it's time to ditch the ick.
I've tried a variety of sprays over the years but have had a hard time finding something that was a good fit for me. I didn't want something that left that uncomfortable wet feeling behind but I also wanted something that offered the protection I would need when chasing around a bunch of little kids.
Of course, I wasn't the only person facing this problem, Alex (as usual) was right by my side!
Thankfully we have both found new products that work for each of us and as an added bonus, they smell really good!
Allow me to introduce you to DrySpray from Axe and Degree.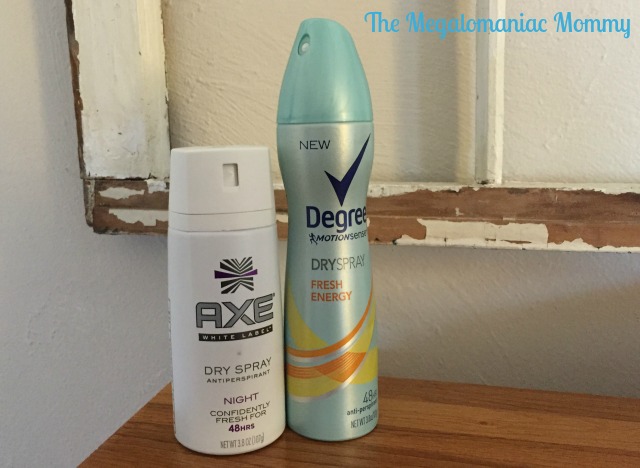 I'm not going to lie, I'm hooked on the scent of both of these. The Degree DrySpray Fresh Energy reminds me of the cucumber melon scent and Alex happens to love the cucumber melon scent so, of course, he loves that I have been using this.
As for the Axe, he's been using it for a good two weeks now and I cannot get enough of it. It has a scent that reminds me of something from the 90's but I can't quite put my finger on what.
You can protect yourself from those embarassing moments by picking up some DrySpray Antiperspirant today!
It's time for your to ditch the ick and try dry!
The NEW Dry Spray Antiperspirants from Degree Men, Degree Women, Dove, Dove Men+Care and Axe, available at Walmart.
Related articles across the web
The following two tabs change content below.
Anne is a 30-something full-time SAHM mom of 5 ranging from 3 to 17 and grandma of 1 who resides in Ashwaubenon (Green Bay) Wisconsin. She started blogging in 2008 as a way to regain her sanity. She enjoys coffee, chocolate, cheeseburgers and vodka along with spending time with her husband and kids.
Latest posts by Anne Younger (see all)