This past Friday, the Alex and I took the kids on a much need day trip/vacay to beautiful Door County Wisconsin.
For those of you who know nothing of Door County, let alone Wisconsin, let me fill you in.
Door County is like The Hamptons of Wisconsin.
It's filled with quaint little towns with names like Egg Harbor, Ephraim, Fish Creek and many more.
It's the place college students live for 'the season' while they are working in a shop, hotel, restaurant or serving up ice cream at Wilson's Restaurant.
People travel from near and far to visit one of Wisconsin's best tourist attractions and it just happens to be one of my favorite places to go in this great state.
It's surrounded by water and over 300 miles of shoreline and it's beautiful!
A must see for anyone who is visiting Wisconsin.
For us, a 45 minute car ride finds us entering Door County a drive I can more than handle.
The kids were beyond excited to go and check out all the cool sites I had been telling them about.
We started our trip overly prepared for any little mishap.
Armed with the credit card, extra clothes and munchies for all.
We departed Green Bay and headed off to our first destination, The Farm, in Sturgeon Bay.
Once we arrived, we did a quick diaper and clothing change on Alexander who had covered himself in banana bread crumbs during the first lag of the trip.
After doing a once over on everyone else, we were off to see the animals.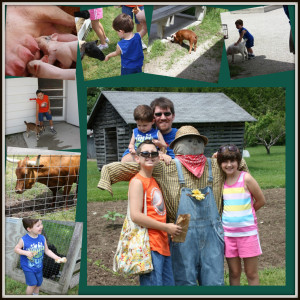 (Click on picture to enlarge for better viewing)
As you can see, a good time was had by all.
After an expensive stroll through the gift shop, we grabbed our trinkets and packed everyone back into the family minivan.
Once again, we were off.
Our next destination, Cave Point Park .
This was a great place for some photo ops but the Mommy in me had her heart jump in her throat, snapped a few pics and we were gone.
(Click on picture to enlarge for better viewing)
After successfully removing my heart from my throat, we were off to Whitefish Dunes State Park to do some swimming in Lake Michigan and playing in the sand along the beach.
The kids had more fun than I thought they would and apparently, swimming in Lake Michigan is way better than ever going to Florida, so I just saved myself thousands of dollars and am out of planning a trip to Disney!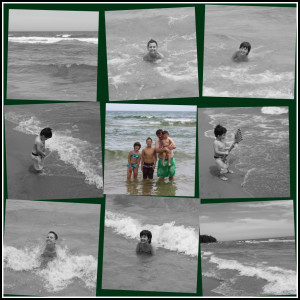 (Click on picture to enlarge for better viewing)
After over an hour of playing in the water and on the beach and a large supply of rocks from the bottom of Lake Michigan, it was time for us to pack up the wagon, get changed and continue our journey through Door County.
I had sand in my hair, ear, down my shirt and all over my face thanks to the adorable Alexander but it was worth it.
Once the van was loaded up, we continued on HWY 57 through all the cute little towns on to our next destination, lunch, in Ephraim.
On the way, we got a glimpse of some people para-sailing, and some other cool sites.
Along the way, this happened:

(Click on picture to enlarge for better viewing)
About 20 minutes later, we arrived in Ephraim and decided it was time to get some chow.
The family voted, Summer Kitchen it was.
Everyone enjoyed sipping sodas out of jar mugs and looking around at the artwork.
We left with full bellies, $100 less and some kooky photos of Zack and Libby.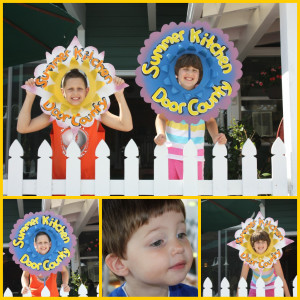 (Click on picture to enlarge for better viewing)
As we had been sitting at lunch, we were explaining to the kids that we were not far from the 'Tip of the Thumb', Gills Rock.
The kids thought it was pretty cool when we arrived in Gills Rock and couldn't drive any further.
We were surrounded by water and it was pretty cool to see.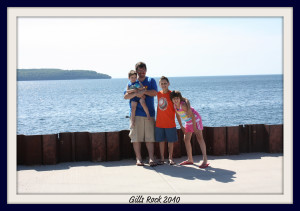 (Click on picture to enlarge for better viewing)
After checking out the little gift shops on Gills Rock, we departed with our one purchase of new pink goggles for the Libby, turned the van around and headed back down the thumb.
We stopped off at farmer's market store and purchased some dip mixes, then headed back to Ephraim, ice cream at Wilson's Restaurant was waiting for us.
2 double scoop Chocolate Peanut Butter Explosion waffle cone, 1 double scoop Sneakers and Caramel Collision waffle cone, a single scoop of Chocolate Chip in a sugar cone and a dish of Chocolate Peanut Butter Explosion later we found ourselves sitting on the porch of Wilson's licking up the 'scream and enjoying every minute of our day together.
We had survived Door County!
All that was left was to pop into a few more shops on the way down and pick up some souvenirs.
We had purchased a t-shirt for Alexander earlier in the day at The Farm, snatched up cool shirts for Zack and Libby, some mood and seashell rings and sailor knot bracelets and then headed home.
On our return trip, we made one last stop because the kids thought it was only appropriate to have proof that they had been: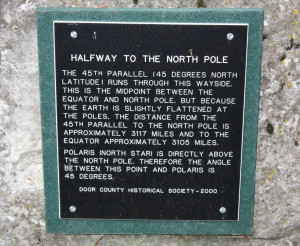 (Click on picture to enlarge for better viewing)
However, by the time we arrived, I was the only one who would get out of the car, as everyone else was exhausted.
All in all, everyone had a great day and we are looking forward to doing it again soon!
What's your favorite family getaway close to home?
The following two tabs change content below.
Anne is a 30-something full-time SAHM mom of 5 ranging from 3 to 17 and grandma of 1 who resides in Ashwaubenon (Green Bay) Wisconsin. She started blogging in 2008 as a way to regain her sanity. She enjoys coffee, chocolate, cheeseburgers and vodka along with spending time with her husband and kids.