When Dolphin Tale was released back in 2011, our family became big fans ot Winter, her story and the movie. When we heard there was going to be a Dolphin Tale 2, we were super excited, especially me! I am continually amazed by movies with heart-warming stories like Winter's.
Now that Dolphin Tale 2 is hitting stores on December 9th, you can just imagine how happy we were to get to watch the movie over the kids Thanksgiving break.
Dolphin Tale 2 is just as loveable as the first movie and if you are anything like me, have some tissues ready.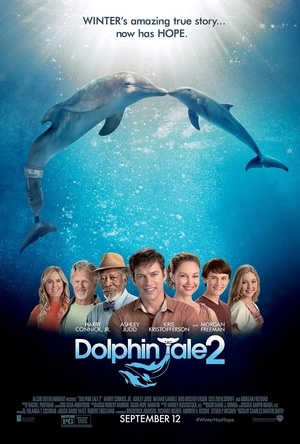 This movie continues to share Winter's journey but also introduces us to Mandy and Hope, who are also dolphins at the hospital as well as Mavis, a sea turtle that Hazel and Sawyer have rescued.
Here is a synopsis of the film:
The inspiring true story of Winter isn't over. Several years after receiving a prosthetic tail, Winter loses her surrogate mother, leaving her alone, grieving and unwilling to engage with anyone, even her best human friend, Sawyer. Worse, she may have to be moved from her home at the aquarium due to regulations requiring dolphins to be paired. When Dr. Clay Haskett and his dedicated team can't find her a companion, it looks like they may lose their beloved Winter…until an unexpected turn of events brings them Hope.
You can check out some of the bonus footage below.
Overall, this movie was a hit with our family and we've already watched it 3 times!
Buy It
You can pre-order your copy of Dolphin Tale 2, available on Tuesday, December 9th, today!

Until your copy of the movie arrives, check out these activities below and have fun!
(Just click the pop-out box/arrow in the top right hand corner to go print!)
The following two tabs change content below.
Anne is a 30-something full-time SAHM mom of 5 ranging from 3 to 17 and grandma of 1 who resides in Ashwaubenon (Green Bay) Wisconsin. She started blogging in 2008 as a way to regain her sanity. She enjoys coffee, chocolate, cheeseburgers and vodka along with spending time with her husband and kids.
Latest posts by Anne Younger (see all)