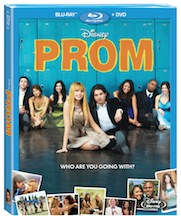 PROM is always an exciting time for everyone and is a big memory we all take with us from high school.
Disney's PROM is an enchanting coming-of-age story that is perfect for the whole family. I sat down and watched it with my daughter, the Libby age 11 and enjoyed a little girlie time together.
The film captures all the anticipation, excitement, drama, and humor that accompany every young person's journey through high school.
We really enjoyed watching the film together and it was great to see my own daughter daydream about what her own prom dress will look like when the time comes. We also enjoyed seeing some familiar faces in the film like Yin Chang from Gossip Girl and Raini Rodriguez from I'm in the Band.
The story line of the film was great and easy to follow and we enjoyed it very much. It was nice to see just how opposites attract in the most unlikely of situations.
We also took the time to play with the bonus features such as the boopers, the Last Chance Lloyd exclusive short and all of the music videos. I'm pretty sure she was singing "Come On, Let's Go" for the entire weekend!
Here's a trailer from the movie:
Disclaimer: This promotion was based on using information provided by Walt Disney Studios Motion Pictures. Walt Disney Studios Motion Pictures does not represent or warrant the accuracy of any statements or product claims made here, nor does it endorse any opinions expressed within this blogsite. The opinions stated from me are 100% mine and they are my true thoughts on this film.
The following two tabs change content below.
Anne is a 30-something full-time SAHM mom of 5 ranging from 3 to 17 and grandma of 1 who resides in Ashwaubenon (Green Bay) Wisconsin. She started blogging in 2008 as a way to regain her sanity. She enjoys coffee, chocolate, cheeseburgers and vodka along with spending time with her husband and kids.
Latest posts by Anne Younger (see all)