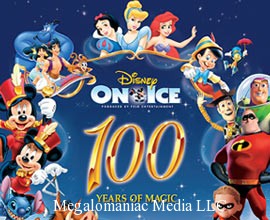 For those of you who have been stopping here for awhile, you may already know that I am a HUGE fan of Disney movies and I may also have a slight obsession with Mickey Mouse (I did receive an award in elementary school for being the Biggest Mickey Mouse Fan).
Starting Wednesday ( Yes!, tomorrow) Disney on Ice 100 Years of Magic will be playing at the Resch Center and our family is excited to be attending over the weekend!
I have take both Zack and Libby to Disney on Ice shows when they were younger, but this will be the first time for both Alexander and Ellie and I cannot wait to see the excitement on their faces!!
Join the celebration as 65 of Disney's unforgettable characters from 18 beloved stories come to life in Disney On Ice celebrates 100 Years of Magic! You'll be captivated by the one and only Mickey Mouse, the irresistible Minnie Mouse, Goofy, Donald Duck, Jiminy Cricket, Pinocchio and all the Disney Princesses. Be thrilled by exciting moments from The Lion King; Mulan; and Disney/Pixar's Finding Nemo, The Incredibles, and Toy Story films; in a skating spectacular filled with magical Disney moments you'll remember forever as Disney On Ice celebrates 100 Years of Magic.
If you plan on taking your family to see Disney on Ice at the Resch Center in Green Bay, The Megalomaniac Mommy has a promo code for you to SAVE $4.00 on each of your tickets!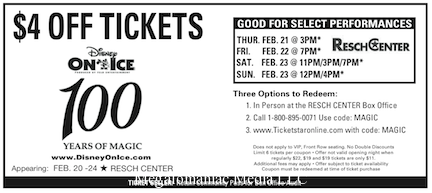 Redeem by visiting www.ticketstaronline.com and entering the promotional code MAGIC.
Disney on Ice 100 Years of Magic will be showing at the Resch Center in Green Bay WI on the following dates:
Wednesday, February 20th – 7 PM
Thursday, February 21st – 7 PM
Friday, February 22nd – 7 PM
Saturday, February 23rd – 11 AM, 3 PM, 7 PM
Sunday, February 24th – 12 PM & 4 PM
Disclaimer: I received a promotional item in exchange for sharing this information.
The following two tabs change content below.
Anne is a 30-something full-time SAHM mom of 5 ranging from 3 to 17 and grandma of 1 who resides in Ashwaubenon (Green Bay) Wisconsin. She started blogging in 2008 as a way to regain her sanity. She enjoys coffee, chocolate, cheeseburgers and vodka along with spending time with her husband and kids.