We you have 3 children of varying ages sharing a room, it is hard to decorate it to fit each of their needs. Both Alexander and Ellie have the things that they love and Joey, he's not real picky yet.
Since all 3 of them took over the master bedroom of our home back in June, I've struggled with how to make it a room just for them. Finding something to make their room their's was not an easy task. What do you do when there is a 6, 3 and 1 year-old all in one room?
Well, I'll tell you what you do. You find a unique way to make it a great space they will all love. We were able to create a unique space in their room, that they all seem to love, with the help of our friends at My Wonderful Walls.

My Wonderful Walls offers an extensive collection of wall murals, baby nursery decor, kids' wall art, wall stickers, wall stencils, mural painting kits and soooooo much more! Basically, they have just what you need to transform any room in your home into a unique space.
Well looking over their website, I knew that I wanted something that all 3 kids would enjoy but also something that could move with Alexander into his own room when we have space. After, what I am sure was hours of, looking through everything, I decided to go with the Dinosaur Wall Mural Sticker Kit.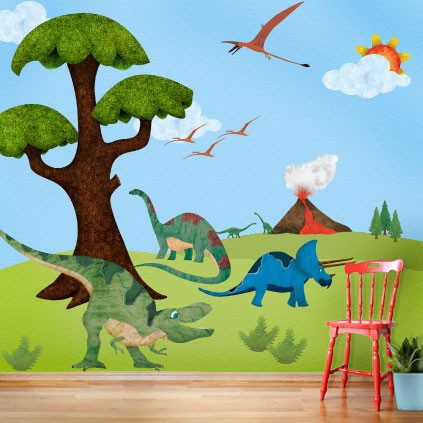 I opted for this particular design because Alexander is crazy about dinosaurs and wants to be a paleontologist, Ellie thinks dinosaurs are cool and loves them because her big brother does and Joey, he just likes to look at them and ROARRRRRR!!!!!
See, it's a perfect fit for their room!
Over the weekend, Alex and Zack put these up in the little's bedroom while I occupied them. They had no clue what was going on behind their bedroom door but once they saw it, they were all super happy!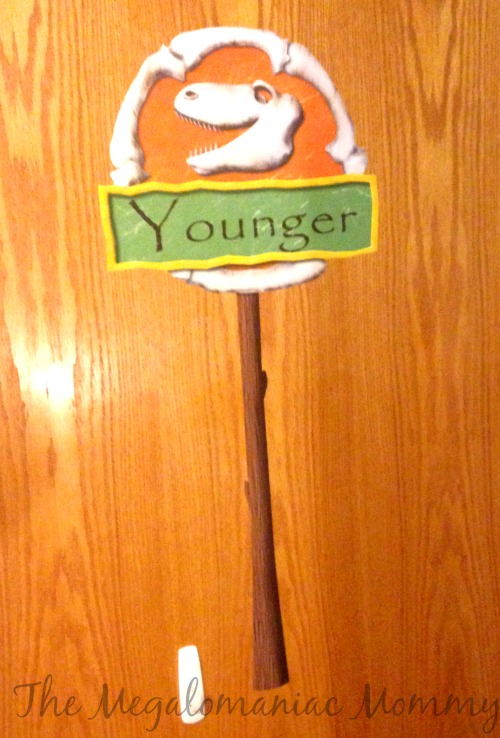 I love how easily the wood grain of the tree flows with the wood grain on the door. It's a great fit.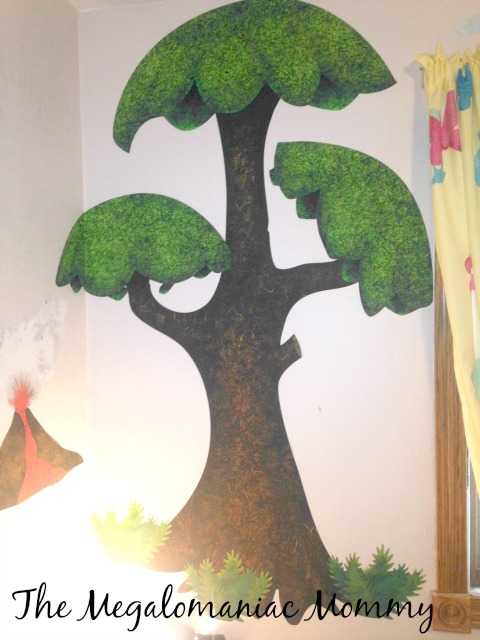 This tree is one of my favorite stickers in the pack, and it is HUGE. How many kids get to have a cool tree in their room?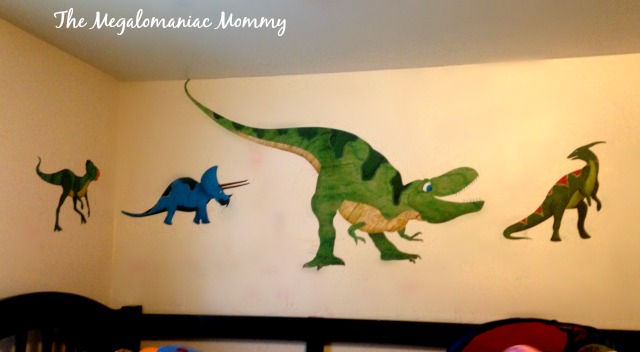 These dinosaurs go all around the top bunk, Alexander's bed, because they are his favorites. Now he sleeps with the dinosaurs everynight.

Zack put together this cute little design above their closet and they can all see it from their beds.
This kit comes with 38 large dinosaur themed fabric wall stickers that are repositionable, reusable and layerable. I love that they are made from SafeCling fabric so they won't stretch or tear, which makes them a great investment. These will easily move from the current room to Alexander's room when it is time and then I can shop for stickers all over again for the other kids!
After getting all of the stickers on the walls in their room, I really love the look. Each sticker looks like it is actually painted on the wall, not just a peel and stick sticker.
You can get the Dinosaur Wall Mural Sticker Kit for $136.99 or check out one of their other great sets for your home.
From a simple personalized wall sticker to a beautiful wall mural, My Wonderful Walls has something to make every space unique.
Be sure to connect with My Wonderful Walls on Facebook and Twitter.
The following two tabs change content below.
Anne is a 30-something full-time SAHM mom of 5 ranging from 3 to 17 and grandma of 1 who resides in Ashwaubenon (Green Bay) Wisconsin. She started blogging in 2008 as a way to regain her sanity. She enjoys coffee, chocolate, cheeseburgers and vodka along with spending time with her husband and kids.
Latest posts by Anne Younger (see all)