*This post is brought to you by Carisa Perrizo, Independent Wildtree Consultant. I received a promotional item in order to facilitate this review. All thoughts and opinions are my own. This post may contain affiliate links.*
Since Wildtree first hit the market I hadonly experienced it via a few products that my mom gave us for Christmas one year that we pretty much forgot about. These days, I see a lot of posts in my Facebook feed about Wildtree and the cool workshops their consultants put together and have been curious as to what it was all about, what the products they offered were and if they were something that would be of interest to our family.
Thanks to Carisa Perrizo, an Independent Wildtree Consultant, we have had the pleasure of checking out some of their items in some of the meals we make on a regular basis.
Before I go further into the details of what we've been doing, here's a little background on what Wildtree is.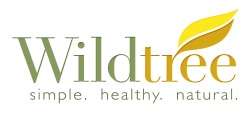 Wildtree is a direct sales company that offers the highest quality herbs, spices and culinary blends that are free of preservatives, additives, fillers and promote a healthier lifestyle.
To give you an example of how Wildtree eliminates the bad and provides you with a healthier, filler free product, here is a list of ingredients you can find in a very popular brand of taco seasoning in your local grocery store.
Chili pepper, salt, maltodextrin, spice, onion powder, corn starch, yellow corn flour. Contains less than 2% of: partially hydrogenated soybean oil, silicon dioxide (anticaking agent), sunflower and/or cottonseed oil, natural flavor, ethoxyquin (preservative).
Most of the items in that list are fillers and if you can't pronounce an ingredient, chances are pretty good you shouldn't be eating it.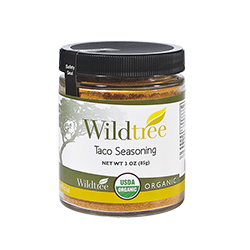 Wildtree makes a fabulous taco seasoning that we've been enjoying and the list of ingredients, are simple.
Organic Chili Powder (organic onion, organic cumin, organic paprika, organic garlic, organic cayenne pepper), Organic Yellow Corn Flour, Organic Cumin, Sea Salt, Organic Onion, Organic Oregano, Organic Garlic, Organic Black Pepper.
One thing you probably noticed about that list, aside from the fact that there are no filler ingredients, is that the word organic is used over and over and over and that's because Wildtree products are USDA certified organic.
What does that mean?
It means that Wildtree products are free of , GMOs, insecticides, pesticides, irradiation, preservatives and food dyes.
I had no clue before Carisa shared Wildtree with our family.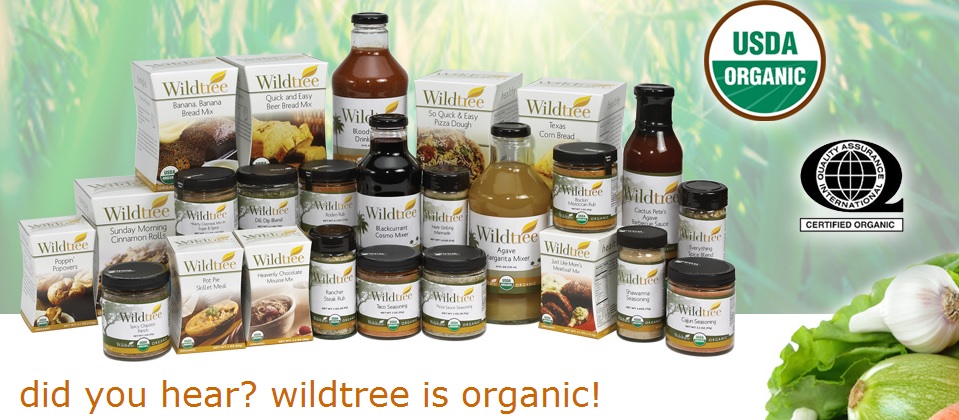 Since learning more about the great, organic products, we have been using them on a regular basis.
Alex recently whipped up a batch of his delicious fettucine alfredo but this time he sautéed the chicken in the Roasted Garlic Grapeseed Oil and he also tossed the pasta with a little to prevent it from sticking together. The flavor this time around was so much better than what we had been eating which has inspired us both to check out more products from Wildtree and start making a difference in the way we cook and eat.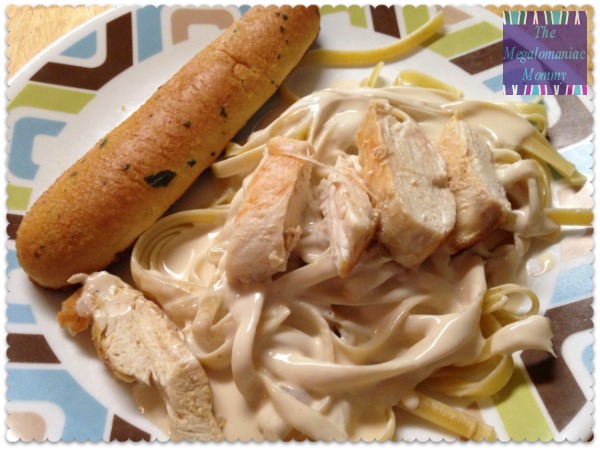 We are both looking forward to trying out the Wildtree Alfredo Extraordinaire the next time we have fettucine alfredo as well as adding a few more items to our Wildtree collection.
Another great thing about Wildtree is that their website is filled with different recipes for you to try out and you can find a recipe based on a product you want to use. I'm planning on putting together a shopping list for both Wildtree and the grocery store based on some of the recipes to whip up some freezer meals to get us ready to kick off the school year.
Thank you Carisa for partnering with us and introducing us to Wildtree and teaching us all of the benefits these great products have to offer.
Connect
You can connect with Carisa on Facebook.
Learn More
If you want to learn more about Wildtree and their line of products or are interested in booking a party, contact Carisa today or if you just want to try a few products out, you can shop on her website.
The following two tabs change content below.
Anne is a 30-something full-time SAHM mom of 5 ranging from 3 to 17 and grandma of 1 who resides in Ashwaubenon (Green Bay) Wisconsin. She started blogging in 2008 as a way to regain her sanity. She enjoys coffee, chocolate, cheeseburgers and vodka along with spending time with her husband and kids.
Latest posts by Anne Younger (see all)