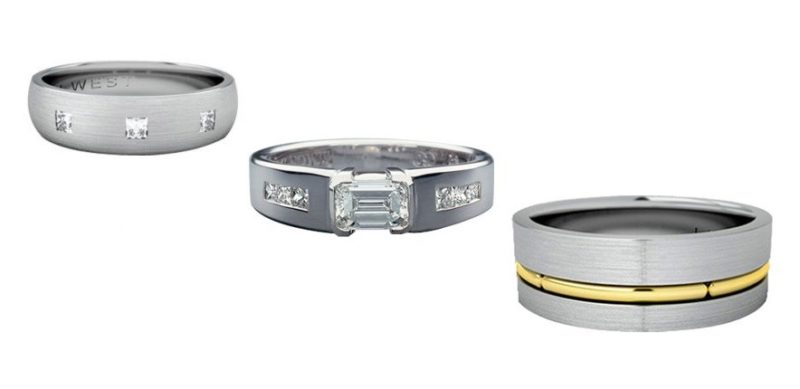 It used to be common for a couple that is getting married to buy matching wedding bands for each other. However, it is becoming increasingly popular nowadays to purchase separate rings individually, so the bride will get to choose the groom's ring. If this is something that you are planning to do for your wedding, then you will want to make sure that you choose wisely and get a ring that matches your groom's taste, as well as his lifestyle.
Work Out A Budget
One of the first things that you will need to do is to work out how much money you have to spend on the wedding ring for your husband. When you know how much you have to spend you can then start to look around and see what is available.
Start Looking Early
You will want to make sure that you leave yourself plenty of time to search for the perfect wedding band for your partner. The more time that you have, the more shopping you can do, and when it comes to men's wedding bands, there is a multitude of choice on offer.
Find A Quality Jewellery Company
Before you start to look properly for wedding bands, it is worth your time to find a reputable and quality jewellery company first. SimonWestJewellery.com offers a personalised service and can assist you with your search for the perfect wedding band.
Consider His Lifestyle
It is important to choose a style of ring that is going to match your partner's lifestyle, and the choice of metal is one of the biggest considerations. You may wish to choose a harder metal than gold, such as platinum or palladium, and you can also find more about the strength of the different metals by studying the Rockwell Scale so that you can decide which metal is better.
What Does He Like?
Something that you need to keep in mind when shopping for the ring is that it is not you that is wearing it. Some men do not like jewellery that is too decorative, or flashy, preferring something much simpler. Take into account your partner's personal taste when choosing a ring, and make sure that it matches. A simple solution to help you find the most suitable band is to ask them what their preferences are before you start the search.
Measure Twice, Cut Once!
Alright you do not actually need to cut anything, but when looking at the different wedding bands it is important that you know what size ring your partner wears. The last thing that you want is to get to the altar and find that the ring does not fit!
Think Long Term
Make sure that you choose a ring that is going to stand the test of time, just the same as your marriage! Pick a ring that is going to match your partner's lifestyle and is robust enough to last for many years to come. There is so much choice available that the biggest problem you will find is which one to choose! With some shopping around and a bit of patience, you will be able to find the perfect ring for your partner and start the rest of your life together in style.
The following two tabs change content below.
Anne is a 30-something full-time SAHM mom of 5 ranging from 3 to 17 and grandma of 1 who resides in Ashwaubenon (Green Bay) Wisconsin. She started blogging in 2008 as a way to regain her sanity. She enjoys coffee, chocolate, cheeseburgers and vodka along with spending time with her husband and kids.
Latest posts by Anne Younger (see all)