Tonight as we were preparing dinner, I decided that I definitely needed to use the last of our yellow potatoes before they went bad, I just couldn't decide what to do. I surfed around Pinterest for ideas but of course I didn't have everything on hand that a lot of the recipes called for which meant, we had to wing it and concoct a recipe of our own.
We did it.
They were delicious.
If I had more potatoes on hand right now I would be making more and devouring the entire pan by myself!! Alex was lucky that I was kind enough to save him some.
I give you Cheddar 'Curt'y Potatoes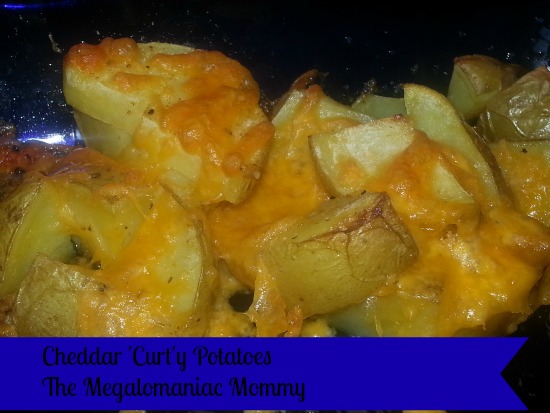 Cheddar 'Curt'y Potatoes
2013-03-22 15:54:02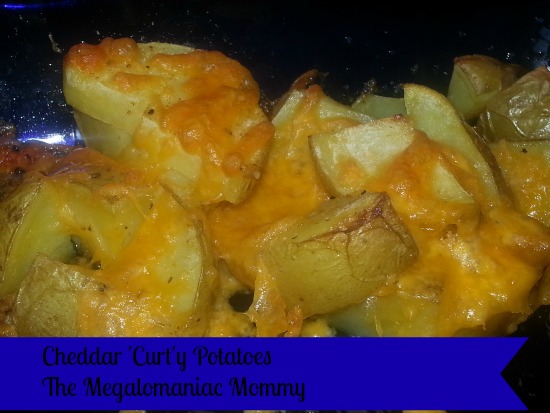 Ingredients
6-8 yellow potatoes cut into 6-8 pieces each
Extra Virgin Olive Oil
4 tablespoons butter
Curt's Table Spice
A few sprinkles of salt
1 cup shredded Cheddar cheese
Instructions
Preheat oven to 450*
Place cut potatoes in a greased 9×13 casserole dish, drizzle with EVOO, a few sprinkles of salt, slice up 4 tbsp butter and place on top of potatoes, sprinkle generously with Curt's Table Spice and bake at 450* for 25 minutes.
After 25 minutes sprinkle the top of the potatoes with the cheddar cheese and pop back in the oven for 10 minutes.
Take out, serve, and enjoy!
The Megalomaniac Mommy http://themegalomaniacmommy.com/
The following two tabs change content below.
Anne is a 30-something full-time SAHM mom of 5 ranging from 3 to 17 and grandma of 1 who resides in Ashwaubenon (Green Bay) Wisconsin. She started blogging in 2008 as a way to regain her sanity. She enjoys coffee, chocolate, cheeseburgers and vodka along with spending time with her husband and kids.
Latest posts by Anne Younger (see all)