My girls love to accessorize, even Ellie and she's not even 3! Ellie doesn't leave the house if she doesn't have her matching hats, gloves and purse. Yes, she is a little diva.
One of Ellie's favorite things these days is to wear bracelets. She doesn't care if they are plastic, rubber, metal, dangly or wrap arounds. She may not be picky about what they are made of but the one thing they all must have is something pink on them.
We were recently given the chance to check out the Charm It! line and Ellie is in love with her pretty new charm bracelet.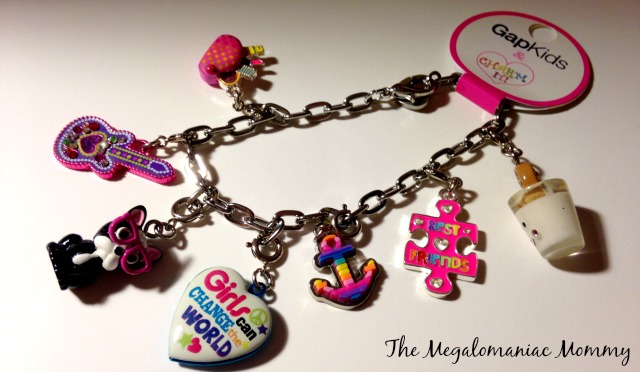 I don't know which charm she loves the most but I know she is a big fan of the purse and the little guitar and this bracelet suits our silly little girl perfectly.
What is Charm It!?

Their website says it best!
CHARM IT!
[chärm it!]
n.
The orginal, detachable,"I just can't stop smiling" charm jewelry brand for girls ages 5, 14 and everything in between.
v.
To express yourself with an endless collection of charms that represent who you are and what you love.
Girls of all ages will love this line and you can add new charms for special occasions or trade with friends.
Charm It offers a line of bracelets, necklaces, charms and giftsets. You can get charms featuring Disney characters, Hello Kitty, and so much more!
Be sure to check out Charm it! online to see everything they have to offer or grab a bracelet at at Gap Kids near you!
Connect
You can connect with Charm It! on Facebook, Twitter and Instagram.

The following two tabs change content below.
Anne is a 30-something full-time SAHM mom of 5 ranging from 3 to 17 and grandma of 1 who resides in Ashwaubenon (Green Bay) Wisconsin. She started blogging in 2008 as a way to regain her sanity. She enjoys coffee, chocolate, cheeseburgers and vodka along with spending time with her husband and kids.