*This post is made possible by Chapter of My Life Books. I received a promotional item in order to facilitate this review. All thoughts and opinions are my own. This post may contain affiliate links.*
I love giving and receiving gifts that are creative and that capture memories. We love to give Alex's Grandma photobooks for the holidays so she can show off her Great Grandkids at church and see what we've been up to throughout the year. Her annual photobook is something she looks forward to every Christmas and I am happy that she loves them.
I recently discovered Chapter of My Life books that a high school classmate, Julie, creates. I had seen pictures of a book she had done for one of her children but I wasn't aware that she creates them for others as well. Now that I have discovered these creative books, I have to share them with you because I feel they will make amazing gifts for friends, family members and even gifts to yourself.

Julie takes information and pictures that you provide her with and creates an amazing storybook. As you know, my pregnancy with Ellie was very emotional and the story of her conception and birth is something I hold very near and dear to me. Julie took my birth story and the pictures I provided her and created the most beautiful story for me to share with Ellie.
I kid you not, reading this book brought tears to my eyes. This is definitely something I will hold near and dear to me for a very long time and I will pass it on to Ellie when she is grown.
Here are some of the moments she captured in the book.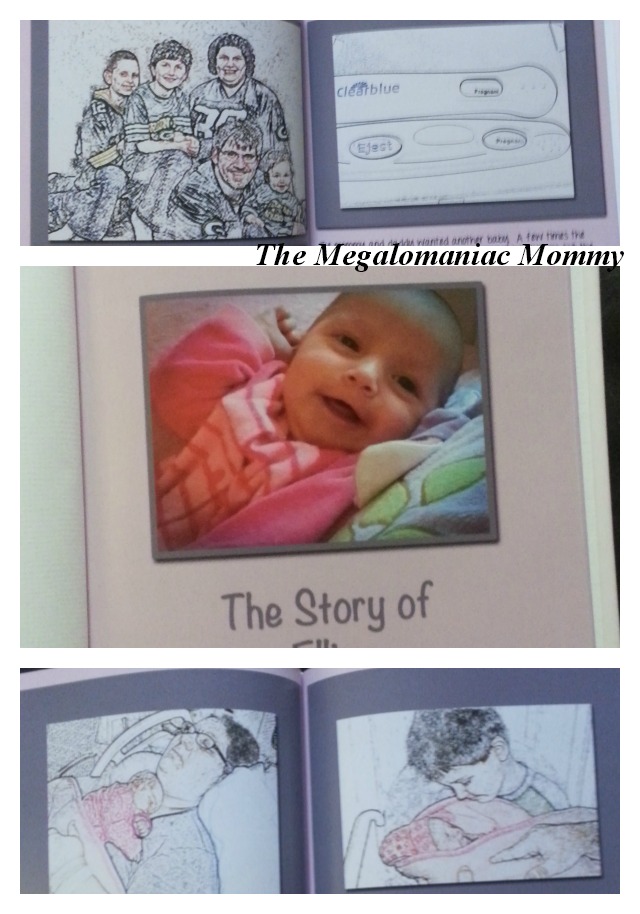 Like I said, not only did Julie take my pictures and turn them into a beautiful story but she also took my words and told a story as well.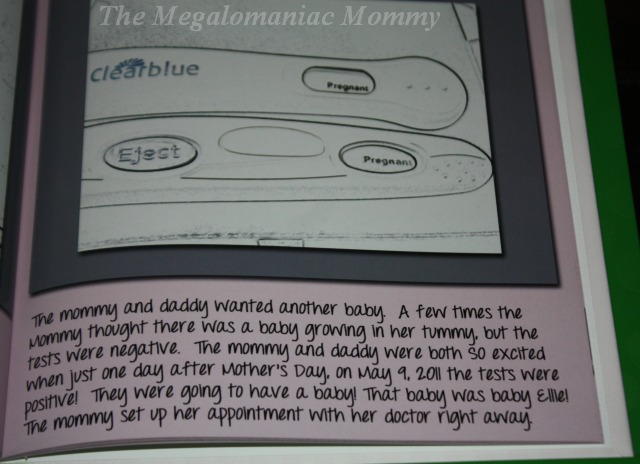 Julie is a stay at home to four rugrats. She originally created these books for her kids to show them how special it is that they became part of her family and she would love to do the same for you and your kids!
From Julie:
Everyone's start in life is different, no two stories are the same. I create personalized story books telling about your child's start in life. Adopted or biological, each child's story is truly one of a kind. Using your photos transformed into storybook illustrations, I will help you create your child's unique storybook. We can use the color scheme of your choice. Children love to hear their story of how they came to be, and they love to see their own pictures in a real book!
I can make other events into story books as well, such as weddings, graduations, etc. Whatever story you have to tell, I can help you make it into a book!
I realize that each person's story is personal, and I guarantee your privacy.
You can find a sample of Julie's work on her Facebook page or click this link to see it now.
Julie does some truly amazing work and has a variety of options available to you and will create a book you are sure to love and cherish forever.
Connect
You can connect with Chapter of My Life on Facebook and check out more of her work. Be sure to let her know The Megalomaniac Mommy sent you!
The following two tabs change content below.
Anne is a 30-something full-time SAHM mom of 5 ranging from 3 to 17 and grandma of 1 who resides in Ashwaubenon (Green Bay) Wisconsin. She started blogging in 2008 as a way to regain her sanity. She enjoys coffee, chocolate, cheeseburgers and vodka along with spending time with her husband and kids.
Latest posts by Anne Younger (see all)