*This post is made possible by ChapStick and Pfizer Consumer Healthcare. I received a promotional item in order to facilitate this review. The ChapStick® product and information have been provided by Pfizer Consumer Healthcare. All thoughts and opinions are my own. This post may contain affiliate links.*

I am what my family likes to refer to as a lover of ChapStick. I'm a sucker for Cherry ChapStick as it will always be #1 on my list but I have discovered a new love…..Limited Edition ChapStick Cupcake Creations.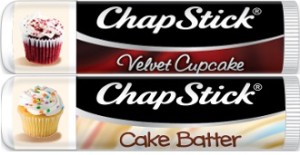 Yes…..Cake Batter and Red Velvet flavored ChapStick.
Seriously, how much better can life get??
I am hooked….so hooked that I ran out to Wal-Mart and Walgreens (you can find them at CVS too!) and bought a bunch of extras as these are only available until March 31st!
These flavors are both so delicious I almost want to eat them. My favorite is definitely the Cake Batter and Alex is just as hooked as I am. Both Libby and Zack are loving the Velvet Cupcake.
Seriously, if you can find them in a store near you, I definitely recommend grabbing some and giving it a try!
Thanks to ChapStick, getting soft, smooth lips is a……piece of cake!
You can connect with ChapStick on Facebook or visit their website.
The following two tabs change content below.
Anne is a 30-something full-time SAHM mom of 5 ranging from 3 to 17 and grandma of 1 who resides in Ashwaubenon (Green Bay) Wisconsin. She started blogging in 2008 as a way to regain her sanity. She enjoys coffee, chocolate, cheeseburgers and vodka along with spending time with her husband and kids.