You may recall a few months ago that we did a review for Hello Fresh a weekly food subscription box. Doing that post was one of our favorite because, well, it was food related and it also introduced us to some new foods and recipes.
Since our review, we've received a few more Hello Fresh boxes and have really enjoyed those as well. I thought since we've experienced the food a few more times that I would update you on how things have been going so here is a look inside our most recent Hello Fresh box.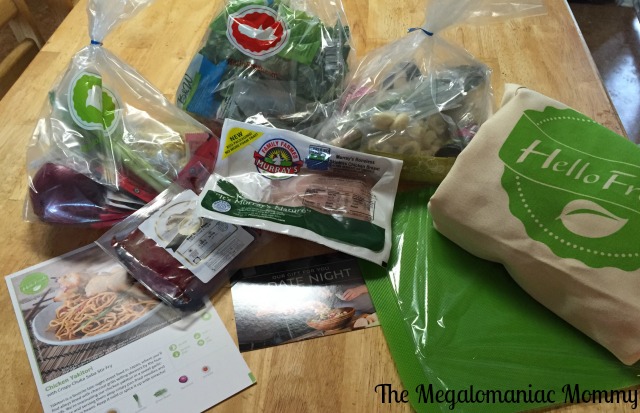 Not only has Hello Fresh been great for learning new recipes, it has also taught us great portion control and I've started eating foods that I've never 'liked' before.
Of course, just as I expected, our latest Hello Fresh box didn't disappoint. As usual, the box was overflowing with fresh ingredients, separated by meal, ready to be cooked up along with a new apron and a cutting mat.
Our first dish was a Spring Tortellin Gratin with Basil Pesto & Asparagus.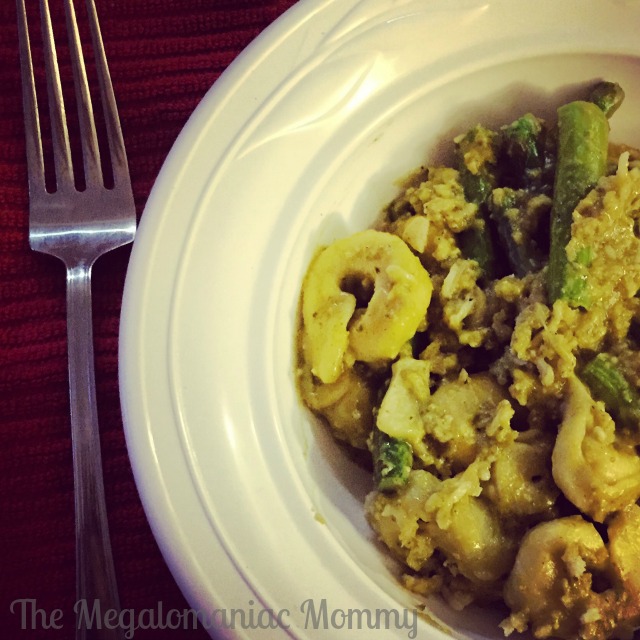 This dish was so good. I love pasta and finding new ways to enjoy it makes me super happy. Now, I've never been a fan of asparagus. I've tried it so many different ways and I just can't get on board, but I continue to try and I think someday I might actually really like it, I just have to find the best way to prepare for me. I did like it more in this dish but it's still not right for me.
Our next dish is one of my new favorites and it was a hit with the kids too so I know it will be on the menu soon!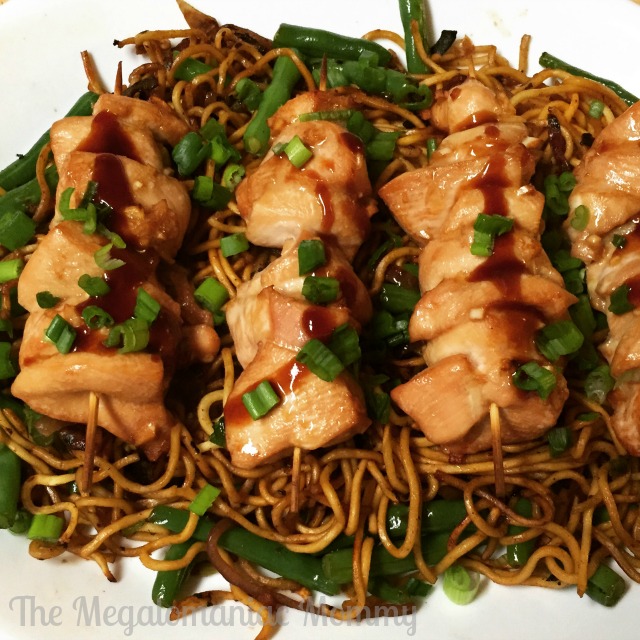 Chicken Yakitori with Crispy Chuka Soba Stir-Fry is absolutely delicious. I wanted to eat it all and leave nothing for anyone else to try.
Now, this dish was a little spicy for me, I'm not a fan of spicy dishes so I could have done without the sriracha (and we didn't even use the amount it called for), but if you like spice and sriracha, you will love this dish.
Our 3rd dish was a Steak Tagliata with Rosemary Sweet Potato Wedges and a Watercress Salad. This was so scrumptious that I forgot to take a picture because I couldn't wait to devour it!
Of course, we are pleased, once again with our Hello Fresh experience and definitely recommend it to others. You can check out pictures of other fabulous Hello Fresh dishes by looking up #HelloFreshPics on social media or visit the full gallery here.
I'm hoping that someone….hint hint husband…kids….continues our Hello Fresh subscription for us as a Mother's Day gift because it would make me super happy!
The Subscription
Hello Fresh has two different boxes, The Classic Box which is for omnivores or The Veggie Box which is for herbivores. They both come with delicious recipes, farm-fresh ingredients and a flexible subscription and you can get them with enough product for meals for 2 people or meals for 4 people and you can even preview what the recipes will be before you place your order! Boxes start at $59.00 and go up to $129.00.
Connect
Be sure to check out Hello Fresh on Facebook, Twitter and Instagram for more great food pictures from different boxes.
The following two tabs change content below.
Anne is a 30-something full-time SAHM mom of 5 ranging from 3 to 17 and grandma of 1 who resides in Ashwaubenon (Green Bay) Wisconsin. She started blogging in 2008 as a way to regain her sanity. She enjoys coffee, chocolate, cheeseburgers and vodka along with spending time with her husband and kids.