I remember as a kid in the 80's seeing this commercial for the first time and singing the catchy tune over and over and over.
Honeycomb's big…yeah yeah yeah!It's not small…no no no!Honeycomb's got…a big big bite!
It didn't take long after that for my mom to buy me a box of Honeycomb cereal and moments after that, I was hooked.
Now here I am, 36 years old and a mother of 5 children who love Honeycomb cereal and can't get enough of that big big crunch!
It's a Celebration
This year, Post Honeycomb cereal is turning 50 years old! Since 1965, Honeycomb's one-of-a-kind playful shape and sweet honey taste have made the cereal a breakfast classic that is not only great in the bowl, but also a flavorful addition to treats.
Delicious Treats
Honeycombs aren't just delicious when served in a bowl with milk, they also can be a great snack or treat like this delicious Honeycomb Monkey Munch.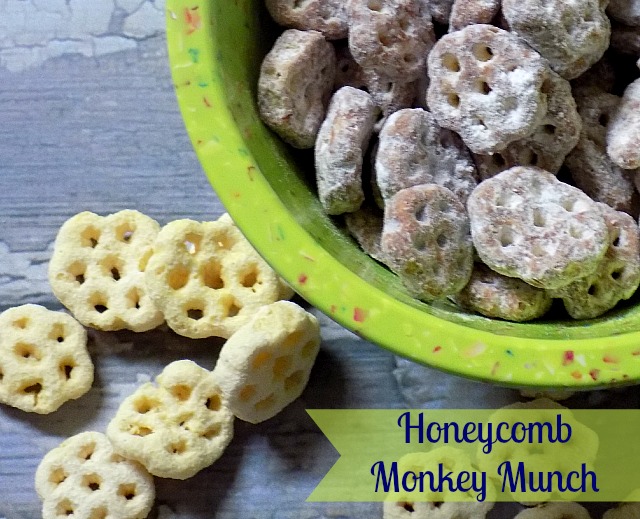 Honeycomb Monkey Munch is super easy to make and only requires 4 ingredients and it is a delcious treat. It's so good that the kids won't want to stop eating it and that's okay because Honeycomb cereal has:
8g of whole grain per serving*
Excellent source of vitamin D
Low in fat and cholesterol-free
10 essential vitamins and minerals
If you ask me, that's a great reason to snack on Honeycomb cereal all the time!
You can visit the Post Foods website for a variety of recipe ideas incorporating the cereal or feel free to explore your creative limits and develop your own.
How do you like your Honeycomb cereal?
I like mine straight out of the box!
Get the Recipe
You can whip up your own batch of Honeycomb Monkey Munch using the recipe below.
Honeycomb Monkey Munch
2015-06-18 00:12:41
Ingredients
1/2 cup peanut butter
4 squares semi-sweet chocolate
8 cups Post Honeycomb Cereal
2 Tbsp. powdered sugar
Instructions
Microwave peanut butter and chocolate in large microwaveable bowl on HIGH 1-1/2 min. Stir until chocolate is completely melted and mixture is well blended.
Pour over cereal in large bowl; toss to evenly coat. Place 2 large sheets of aluminum foil on counter, with long sides of foil slightly overlapping. Spread cereal mixture onto foil. Let stand 2 hours or until chocolate coating is set.
Place powdered sugar in fine mesh strainer. Shake strainer over cereal mixture to evenly coat cereal mixture with sugar. Store in tightly covered container at room temperature.
Notes
Cooled cereal can be placed in a large brown paper bag instead of on the sheets of foil. Add powdered sugar to cereal mixture in bag; fold down top of bag to close bag. Let the kids shake the bag to coat the cereal mixture evenly with the sugar.
The Megalomaniac Mommy http://themegalomaniacmommy.com/
The following two tabs change content below.
Anne is a 30-something full-time SAHM mom of 5 ranging from 3 to 17 and grandma of 1 who resides in Ashwaubenon (Green Bay) Wisconsin. She started blogging in 2008 as a way to regain her sanity. She enjoys coffee, chocolate, cheeseburgers and vodka along with spending time with her husband and kids.
Latest posts by Anne Younger (see all)