On Friday, I met with my OB-Gyn to go over the results from our ultrasound 2 weeks earlier. Basically, she told me the same thing the nurse practitioner did. So, as of right now we wait until my appointment on May 10th when we will have a repeat ultrasound to see if things have changed. We are hoping that the cerebral ventricle hasn't become bigger and that the little guy shows us the other side of his fabulous brain. If there is a change or we can't see things, I will be setting up an appointment with maternal fetal medicine to find out what the next step is.
Other than that, his heartbeat is very strong and he is extremely active on the inside!
So again, prayers are more than welcomed until we know more about our little man.
Thank you!!

As I mentioned last week, we had our full anatomy scan to check things over with Baby Peanut and see how he is doing. I also shared that they were concernd with his brain and that the cerebral ventrical was enlarged and that we were waiting to hear from the Dr. Well, this morning, I talked to my nurse and my OB asked if I wanted to come in sooner than my next appointment in May and repeat the ultrasound to see if we can get a better look and see if there is any cause for concern. Of course, I told her I definitely wanted to come in sooner and see my little dude and get a better picture. The plan is to repeat my ultrasound next Friday, the 26th, and am hopeful we will be able to get some better pictures and check out his little brain.
Of course, we are praying that everything is okay with our little man and that the last ultrasound was just a fluke. We would appreciate any happy thoughts and prayers you can spare for our little guy that everything is okay!
I will, of course, update after my ultrasound next week and let you know how everything goes.
Thank you!
We had our 20 week checkup today for our little Peanut and he seems to be doing pretty good.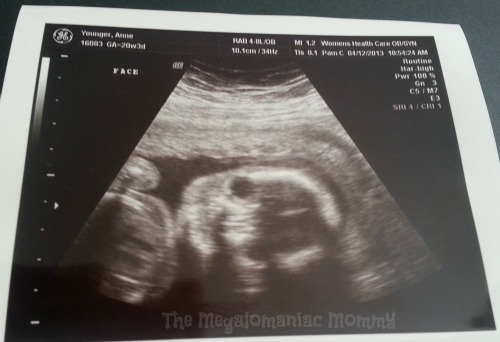 The little dude is measuring 20 weeks and 3 days and it about 14 ounces.
He was squirming around and having fun but we were able to confirm that he is indeed a boy.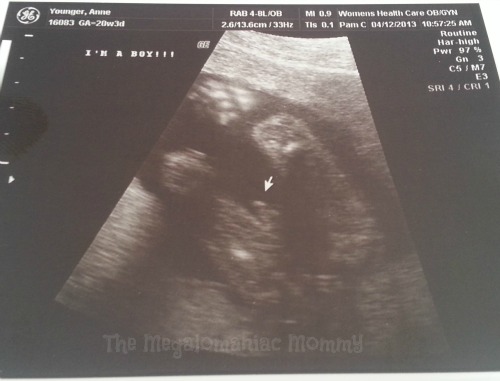 All in all, everything looked good. We saw the nurse practitioner after the ultrasound since my OB was off delivering A LOT of babies! The nurse practitioner informed us that the only cause for concern was that one of his cerebral ventricles is enlarged and they were not able to get a view of the other one to compare. At this point, she wasn't concerned but said that my OB would look things over and decide if we should have another ultrasound at the office or if we should see a perinatologist to check things out further.
So, for now we wait to hear from the Dr. and see what she wants to do.
This also means that I need to be a good preggo and stay away from Dr. Google during this time.
We have our next appointment on May 10th so until then or until I hear from the Dr. I leave you with these pics of our little dude.


This coming weekend I will hit the midpoint of this pregnancy. From here, I'm sure it will feel like forever until this little guy arrives. The good news is that I no longer feel the urge to vomit 24/7, I don't need to pop Zofran or laxatives like they are candy and I am finding that I have a little more energy than I have over the last 3.5 months.
Now that we know we are expecting a little boy, it is time for me to start letting go of all of the girl stuff I started saving when we discovered we were expecting again. I am also in the process of figuring out what we need for this little dude since we have very little baby stuff left and what we do have is bright pink.
Not only do we have to prep for Peanut's arrival by getting the necessities, there is also the matter of remodeling the basement and getting bedrooms all moved around. Right now, the thought of construction in the basement, moving around bedrooms and getting everything ready before he arrives is eating at me. I feel like things will never be ready before he gets here or we won't have everything he needs.
Basically right now I am just nervous and worried about everything but I'm sure in the end, everything will fall into place perfectly!
Be sure to join us for The Megalomaniac Mommy's It's A Boy Baby Shower Event May 1st – July 31st for some great pregnancy/baby reviews and awesome giveaways!