I participated in a campaign on behalf of Mom Central Consulting for Cascade. I received a product sample to facilitate my review and a promotional item as a thank you for participating.
Last month, we became the proud new owners of a portable dishwasher thanks to some wonderful friends of ours. Having a dishwasher again has been a huge help! For some reason, neither Zack or Libby understand the concept of washing dishes by hand and only putting them away if they are clean. Apparently all the years of having a dishwasher has spoiled them.
Now that we have a dishwasher again, getting someone to do the dishes after dinner is a breeze! Since we haven't been using a dishwasher since July, I wasn't sure what soap would work best in our portable. At our old house, I would just buy whatever cost the least and use that. Now that this is our dishwasher and I want it to last a long time and clean our dishes, I am a little pickier.
When we first got our dishwasher we were using a powder soap and in the beginning, it seemed to be doing the trick however after a few washes, I notcied that there were streaks on the glasses and silverware and a strange film on the plates and other utensils.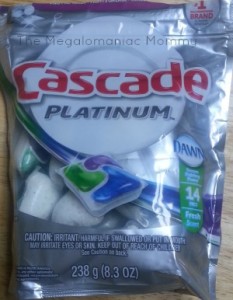 We recently started using Cascade Platimun Pacs in our dishwasher and I noticed a huge difference after the first load of dishes was done.
The Cascade Platinum Pacs clean off 24 hour stuck-on food, which in our house is a great thing because I have kids that often forget to rinse their plate off after a meal.
These pacs also eliminate the need to pre-wash dishes, which again is great because, my kids….yeah they the forget to rinse their dishes!!
I have also noticed that our glasses and silverware are also coming out cleaner as well and that is something that makes this mom VERY happy!
Not only are our dishes coming out clean thanks to Cascade but our dishwasher is clean and doesn't smell!
The Cascade Platinum Pacs have definitely outperformed the soap we have been using and it is very likely that we will continue to purchase these from now on since they seem to get the job done!
Cascade recently partnered with Gail Simmons from Top Chef (and editor of Food+Wine magazine) to discuss why presentation is just as important as presentation when it comes to food. Would you want to serve food on a dish that wasn't sparkling clean or drink from a glass that was covered in spots?
You can learn more about Cascade's partnership in the video below.
Now through June 30th, you can enter the Cascade "My Platinum" contest, a 4 week Instagram conest that encourages you to upload photos around a weekly contest theme and show how sparkly Cascade makes all your pots, pans and plates!
For more information, visit the contest page for information on how you can enter and submit images. Each week, 2 contestants will be selected to receive a BRAND NEW Whirlpool dishwasher. At the end of the contest, 1 Grand Prize Winner will receive a Platinum Kitchen Makeover!!!
What are you waiting for?? Check out the Cascade "My Platinum" contest now and enter for your chance to win!!
Connect:
You can connect with Cascade on Facebook and YouTube.
Again, thank you to Mom Central Consulting and Cascade for this opportunity.
The following two tabs change content below.
Anne is a 30-something full-time SAHM mom of 5 ranging from 3 to 17 and grandma of 1 who resides in Ashwaubenon (Green Bay) Wisconsin. She started blogging in 2008 as a way to regain her sanity. She enjoys coffee, chocolate, cheeseburgers and vodka along with spending time with her husband and kids.