The British industrial revolution was powered by mill towns like Bolton. Industrial heritage is all around you in the town, which boasts plenty of surviving mills, as well as grandiose Victorian public buildings, demonstrating the town's great wealth in its heyday.
The mills closed long ago, but Bolton today is an optimistic town, proud of its heritage and hopeful for the future. It's also famously friendly, actually voted the friendliest place in England by the British Association for the Advancement of Science.
So the town has charm and great historical importance, but what is there for the modern family wanting a great day out?
Beautiful Countryside
It wasn't an accident that the industrial revolution kicked off in the midst of the lovely moorland scenery around Bolton. It was the streams gushing down from the high ground of the moors that powered the cotton mills behind the revolution.
The West Pennine moors provide 90 square miles of wild countryside, full of recreational possibilities for a great day out enjoying the fresh air and beautiful scenery. You could go for a day out, just walking or biking and stopping off in some of the pretty moorland villages.
A nice place to start might be the village of Belmont, about five miles out of Bolton, where you can see a historic mill which is still operational, as well as some small modern enterprises that are bringing new economic life to the village. There's a pleasant walking route round the Belmont reservoir, an attractive church and a couple of famous pubs to visit.
Although the moors are elevated, the inclines on many routes are fairly gentle for ramblers and cyclists alike. Local Bolton real estate agents like Bridgesfords.co.uk are seeing increased interest in the area from people that want to change the pace of their life and enjoy the activities, making it a positive lifestyle choice.
Action-packed Entertainment
If you're looking for a something bit more exciting but still fun for all the family, except the very young and very old, you could do worse than trying out Air-Vault, a trampoline centre that anyone with a reasonable level of fitness can enjoy.
Air-Vault features a course of 90 interconnected trampolines for you to navigate in whatever style suits your ability and takes your fancy. The other bouncers will all be too busy enjoying themselves to see your clumsy first attempts to get off the ground. But it's not hard to get the hang of it and lose your inhibitions, and you'll be bouncing away like a pro before long.
Trampoline is great aerobic exercise and it definitely burns the calories. Above all, it's great fun.
Animal Farm
If you have a family of young animal-lovers, you can take them for a happy day out to an appealing children's farm a few miles north of Bolton. Smithills Farm lets kids get close to all sorts of animals, from the expected farmyard familiars and pets to exotic Burmese pythons.
It's run by a family with a long history of dairy farming on the land who diversified the business to create an experience that's perfect for animal-loving kids.
As well as the animals, Smithills farm has tractor tours, a bouncy castle, an adventure playground, donkey rides and a café with a very child-friendly menu.
Historic Hall
On an educational note, Hall-i-th-wood is a rare and beautiful Tudor wood framed house, built in early 16th century, and now a museum. The hall was once the home of a rich merchant, before being split up and rented out to various families. One such tenant was Samuel Compton who was living there in 1779 when he invented the 'spinning donkey', a machine that revolutionised the cotton industry.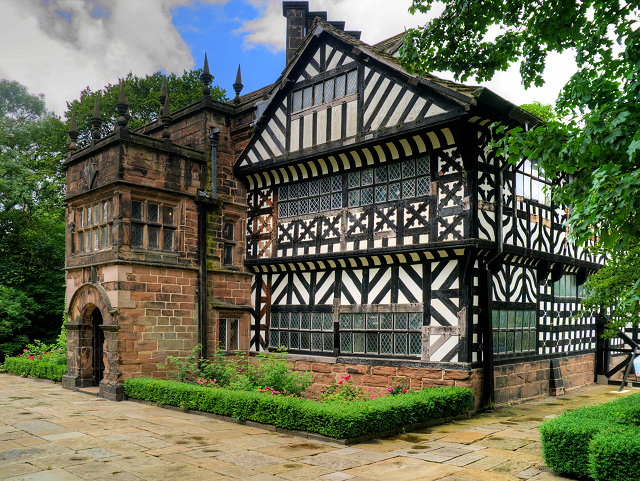 Mr. Compton was an inventor and craftsman rather than a businessman and he didn't profit much from the machine that made so many fortunes for other people. He was persuaded not to apply for a patent, with the result that his machine was copied and used without any payment to him. He struggled to feed his family and died in poverty, though somewhat helped by voluntary donations. Compton was recognised after his death and his statue was erected in the town.
Hall-i-th-wood, where he worked on the donkey, was bought in 1899 by Lord Leverhulme, the self-made man who founded the Lever Brothers soap empire. It was turned into a museum in honour of Compton. Today, the rooms are laid out to convey a feeling of domestic life down the ages and there are helpful volunteers, happy to answer questions. You may be able to see the attic where Compton hid his invention from prying eyes. Entrance is free!
Bolton is a friendly northern city, close to natural beauty, but full of life of its own. It has well-regarded theatres, hosts a renowned food and drink festival, and overall, it's hard to see the attraction of expensive southern cities in comparison to the down-to-earth appeal of a town like Bolton.
Imogen Lane is a single parent with 3 daughters aged 12 and under. She enjoys writing about family matters once the girls are asleep, using this time as her wind-down Mommy time!
The following two tabs change content below.
Anne is a 30-something full-time SAHM mom of 5 ranging from 3 to 17 and grandma of 1 who resides in Ashwaubenon (Green Bay) Wisconsin. She started blogging in 2008 as a way to regain her sanity. She enjoys coffee, chocolate, cheeseburgers and vodka along with spending time with her husband and kids.
Latest posts by Anne Younger (see all)