Post sponsored by Mirum. Opinions are 100% my own.

If you have a young child in your home, chances are pretty good that you have heard about Trolls, the latest film from Dreamworks.
From the moment my kids saw the first trailer, they have requested to see the film, by the toys, and can we buy the movie when it comes out too??
Seriously, if you haven't heard about this film, you are living under a rock. Do yourself a favor, scroll back to the top of this post and watch the trailer, Right.Now.
Now do you see what all of the fuss is about? Ellie has watched each of the trailers no less than 100 times each. She keeps telling me that she is Poppy, the happiest Troll, which couldn't be more true!
Get Trolls Toys
Since the release of the film, our local Walmart has been filling up with all kinds of fun Trolls toys and Ellie has been dying to get her hands on some. While we are sure some will magically appear under our tree this Christmas, it was only right that she (and Joey) gets to experience a little magic from the film now.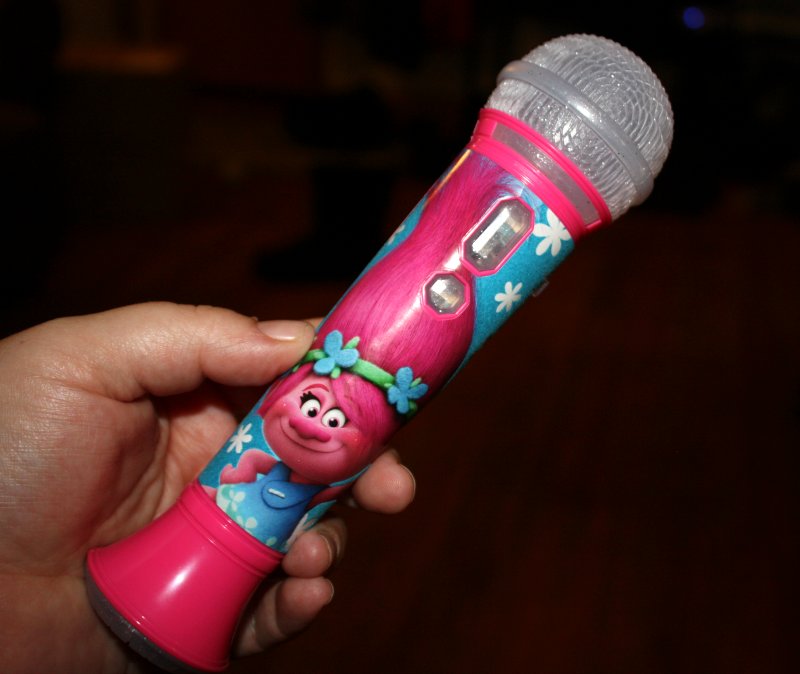 Just Let Them Sing
My kids love to listen to music and they love to sing. The Trolls Rock N' Troll Sing-Along Microphone from Walmart gives them the opportunity to listen to their favorite songs and sing along!
The microphone is a lot of fun for the kids. The love to use it to sing-along to the Trolls soundtrack on my iPhone. All they have to do it plug it into my phone, turn on my music, and the microphone becomes a speaker and allows them to sing along.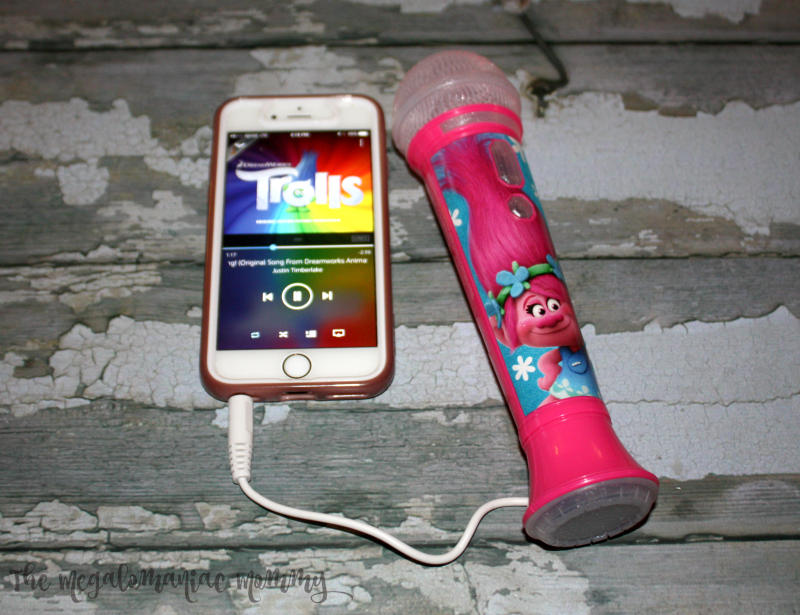 The kids have a great time playing and singing along
It's Always Time for a Hug
Another toy Ellie has been enjoying is the Trolls Hug Time Bracelet, because, it's always time for a hug!

This bright and colorful Trolls Hug Time Bracelet replicates the hourly tradition of "Hug Time" from the film. It features fun lights and sounds that are activated, along with the "It's Hug Time" phrase at the press of a button! Ellie cannot get enough of hug time and I don't mind it one bit!
You can find both of these great Trolls toys and many, many more Trolls items at Walmart! Be sure to get them in time for the holiday gift giving season!
Win
You can enter for your chance to win 1 of 75 – $30 Walmart e-gift cards, great for your Trolls toy purchase, using the form below!
Dreamwork's Trolls Sweepstakes

The following two tabs change content below.
Anne is a 30-something full-time SAHM mom of 5 ranging from 3 to 17 and grandma of 1 who resides in Ashwaubenon (Green Bay) Wisconsin. She started blogging in 2008 as a way to regain her sanity. She enjoys coffee, chocolate, cheeseburgers and vodka along with spending time with her husband and kids.
Latest posts by Anne Younger (see all)