Having 5 kids, I have experienced just about everything a parent should with a young child. Of course, there are many moments that I have logged that are some great memories, and then the ones that I wish I could forget.
I wish I could forget the nights I had a child up crying and screaming because their ear hurt. I wish I could forget the times I have been thrown up on, peed on and yes, even pooped on. I wish I could erase the memories of full body tantrums, illness, and even diaper rash.
Ugh. Diaper rash.
I remember when Libby was about 8 weeks old, changing her in the middle of the night because she was crying and screaming so loud. The moment I removed her diaper, I quickly discovered why. Her poor little bottom was bright red and raw in spots. It was one of the longest nights of my life.
Combat Diaper Rash
With all 5 kids, they have each had some bout with diaper rash when they were younger and I can honestly say that I have used every single diaper cream available, even the prescription ones. After Alexander was born, we were fortunate to discover Boudreaux's Butt Paste, and it is what we have been using since.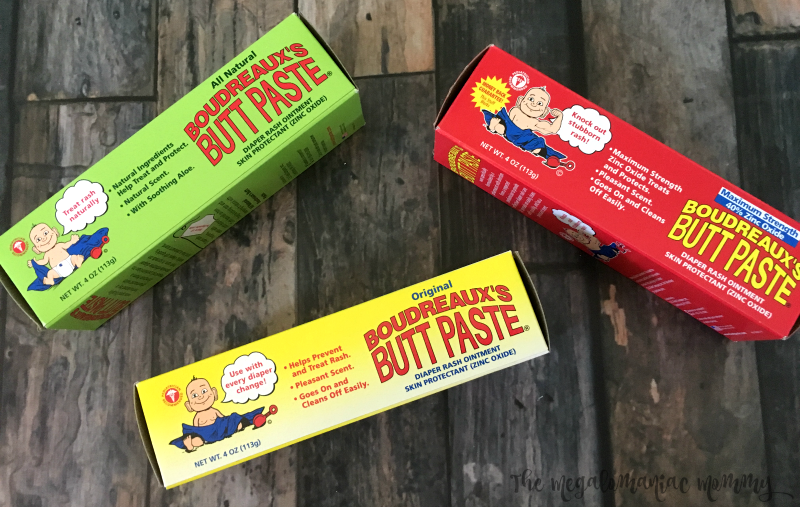 Boudreaux's Butt Paste is a powerful and fast acting diaper rash prevention product yet it is free of the harsh butt-irritating ingredients like Parabens, Preservatives, Dyes, Phthalates and Talc ingredients included in some diaper rash ointments.
When we first used it, I was amazed at the thickness of it and was worried it would be hard to wipe off at his next diaper change, so I was pleasantly surprised to find that it wiped away without and difficulty. Alexander was a fan when we started using Boudreaux's on his little bottom back in 2010.
Alexander, circa 2010.
Pediatricians have always recommend parents use a diaper rash cream/ointment that leaves a thick barrier between the diaper and the skin, exactly why Boudreaux's Butt Paste has been specially formulated to provide the thickest barrier of protection that forms immediately upon contact with your baby's bottom.
Something for Every Bottom
Boudreaux's Butt Paste is available in three targeted formulas to help protect against and improve diaper rash – Original, Maximum Strength and All Natural.
The Original Formula – contains 16% Zinc Oxide which treats skin irritations by creating a barrier to seal out wetness
The Maximum Strength Formula – contains 40% Zinc Oxide for over two times the rash fighting power as the Original Formula
The All Natural Formula – In addition to 16% Zinc Oxide, this has been formulated with natural soothing and calming ingredients like Aloe Vera to soothe skin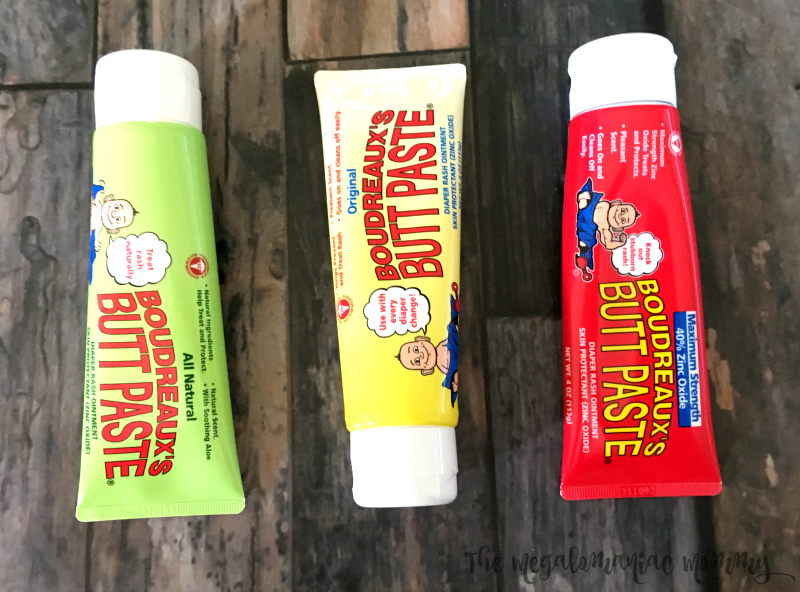 Connect
Be sure to connect with Boudreaux's Butt Paste on Facebook and Instagram.
Win It
You can enter for your chance to win a Boudreaux's Butt Paste prize pack containing all 3 varieties of butt paste and a $25 Visa gift card. Enter for your chance to win using the form below.
This giveaway will end on 9/29/2016 at 12:00pm CST. Winner's will be contacted via email and will have 24 hours to respond with their mailing information to claim their prize. The Megalomaniac Mommy is not responsible for prize fulfillment. Any questions, please contact us.
*The Megalomaniac Mommy policies on giveaways can be found here.
The information, products, gift card, and giveaway have been provided to me by Boudreaux's Butt Paste. All thoughts and opinions are my own.
The following two tabs change content below.
Anne is a 30-something full-time SAHM mom of 5 ranging from 3 to 17 and grandma of 1 who resides in Ashwaubenon (Green Bay) Wisconsin. She started blogging in 2008 as a way to regain her sanity. She enjoys coffee, chocolate, cheeseburgers and vodka along with spending time with her husband and kids.
Latest posts by Anne Younger (see all)