Over the last few months, Ellie has not only discovered Barbie, she has become Barbie's #1 fan! It started with seeing the commercials on TV, then moved on to the TV series, and came full circle when she received the gift of her first Barbie.
Now here we are, planning for Christmas and everything on her wish list involves Barbie.
For the last week, Ellie has been busy, enjoying some amazing new items from Barbie and she can't get enough.
Barbie Pop-Up Camper Vehicle
The Barbie Pop-Up Camper Vehicle has easily become one of Ellie's favorite new toys to play with.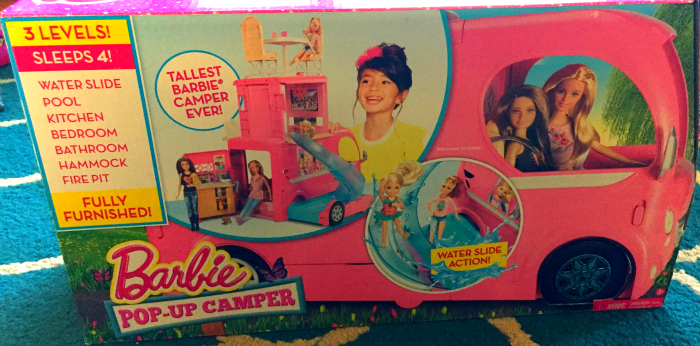 As someone who loved playing with Barbie's as a kid, having a daughter that enjoys them has been so much fun. I would have loved to have something as cool as the pop-up camper as a kid!
The Barbie Pop-Up Camper has everything Barbie, her family, and friends need to hit the road for a full adventure.
Just by lifting up the handle, the camper opens into a three-story play set.
The front seat of the camper converts into a bathroom when Barbie is off camping, the spare tire flips over to reveal a cool fire pit, the back door opens up to the kitchen, there is a room with a double bed and hammock, a pool with a slide, and so much more!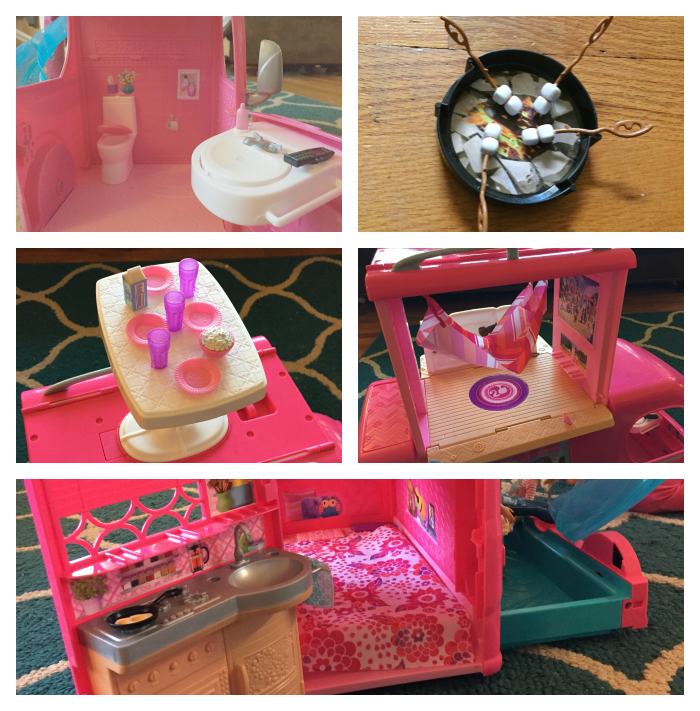 Honestly, this camper has everything Barbie needs for a fabulous glamping experience.
Saddle 'N Ride Horse
Of course, a true glamping experience wouldn't be complete without some horseback riding!
The Saddle 'N Ride Horse (as seen in Toys R Us' 2015 Hot Toy List) gives Barbie the chance to saddle up and hit the trails and enjoy all of nature's beauty.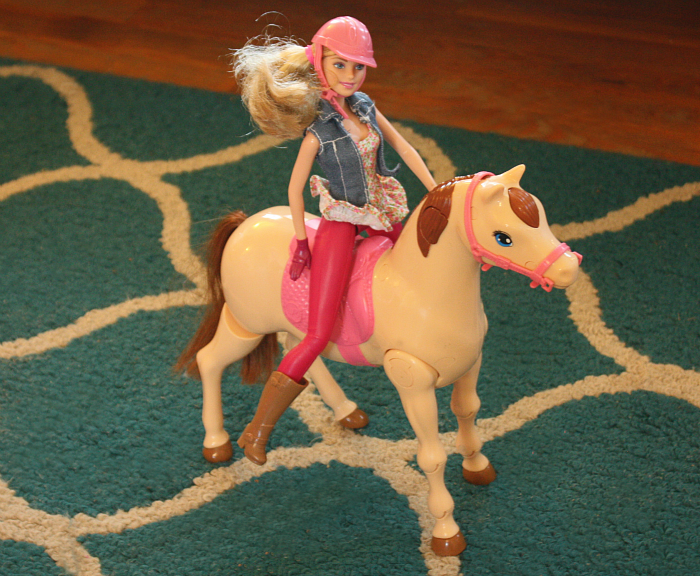 Another fun Barbie toy I would have enjoyed having as a kid, the Saddle 'N Ride Horse lets Barbie hop on and go for a ride at the push of a button.
Of course, Barbie looks fabulous while riding and wearing a patterned tunic, denim cropped jacket, pink plastic pants, tall brown riding boots and a stylish pink helmet.
This Mom Loves Barbie
For as long as I can remember I have been a fan of Barbie. I loved playing with the dolls I had as a kid, dressing my dolls, and creating all kinds of stories with them.
I am excited to go on this journey with Ellie as she continues to discover Barbie and slip further into her world and I can't wait to hear all of the stories she has to tell.
Shop Barbie at Toys"R"Us
This holiday season, Toys"R"Us has everything you need when shopping for the Barbie fanatic on your list. You can find both the Barbie Pop-Up Camper Vehicle and Barbie Saddle 'N Ride Horse as well as these great items!
Barbie Sisters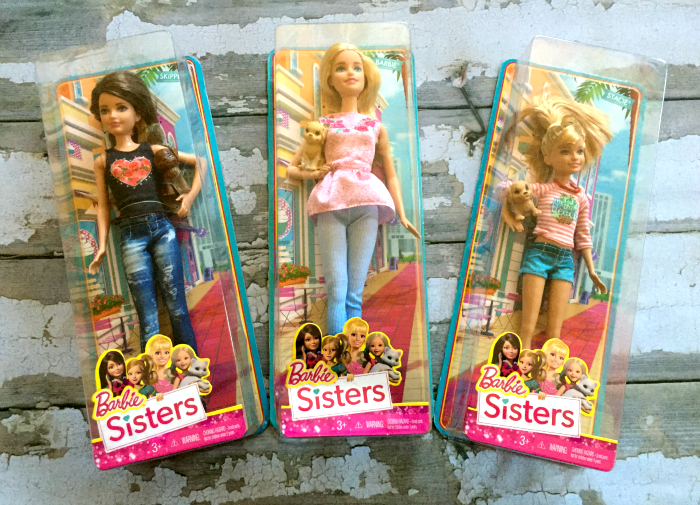 You can find Barbie & Her Sisters, Skipper and Stacie along with their pups for just $12.99.
With these great dolls, kids can recreate scenes from The Great Puppy Adventure movie as well as create their own stories.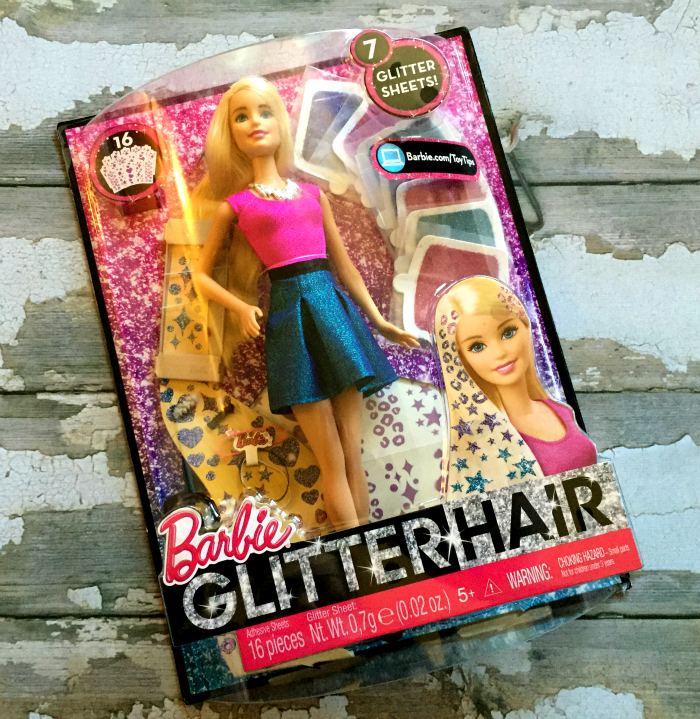 Barbie Glitter Hair Design Doll is perfect for those looking to add a little color and sparkle to Barbie's life, without the mess.
Shop With Ease When You Shop Online
You can fly through your shopping list this year when you shop Toy"R"Us online and pick up your items at the store when they are ready. Skip the crowds and waiting in line and shop online!
As you can guess, Ellie's list is filled with Barbie goodies this year!
Win
Don't miss your chance to win a Barbie Bike & a $100 Toys"R"Us Gift Card just in time for the holidays!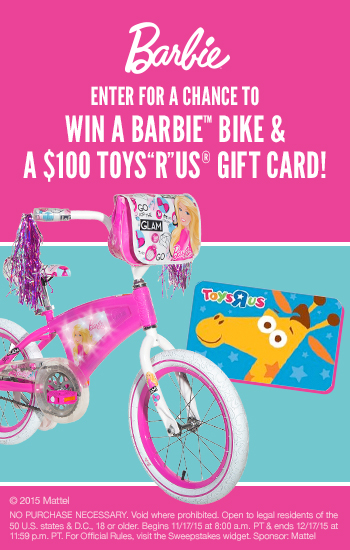 Enter for your chance to win below!
Barbie Bike & Toys"R"Us Gift Card Sweepstakes

The following two tabs change content below.
Anne is a 30-something full-time SAHM mom of 5 ranging from 3 to 17 and grandma of 1 who resides in Ashwaubenon (Green Bay) Wisconsin. She started blogging in 2008 as a way to regain her sanity. She enjoys coffee, chocolate, cheeseburgers and vodka along with spending time with her husband and kids.