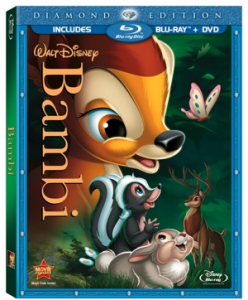 On March 1st, Walt Disney Studios Home Entertainment released Bambi Diamond Edition on Bly-ray.
I have been dying to share this film with my kids since it is one of my all time favorite Disney movies.
So, since I was sick the last few days, I curled up on the couch with my kiddos and watched the movie.
They LOVED it! Zack and Libby really enjoyed it and followed along with the story since they are older. Alexander on the other hand was simply captivated by everything in the movie.
So much so that when the Alex took him to the store, he pointed out everything that had Bambi on it.
He loved the characters, the music, just everything about the movie.
This was one of his favorite parts.
Actually, I should say it WAS his favorite part until I introduced him to the special features.
From there….I lost him to the TV.
His favorite…Disney's Big Book of Knowledge: Bambi Edition.
Here is a complete listing of the bonus features:
Bonus Features:
Backstage Disney:
· Inside Walt's Story Meetings-Enhanced Edition – A fascinating, multi-tiered, interactive story-telling experience. Go back in time with dramatic voice re-enactments of the moments with Walt that led to the creation of this classic film.
· 2 Never Before Seen Deleted Scenes
· Deleted Song: "Twitterpated"
· Blu-ray Galleries—A collection of the extraordinary images originally created as part of the design process for BAMBI.
Family Play: Games & Activities:
· Disney's Big Book of Knowledge: BAMBI Edition— An interactive educational gaming experience that uses the film as a learning tool. Players can customize their own Big Book of Knowledge and learn all about forest creatures, seasons andmore! Each time a player completes a task, they are rewarded with new stickers to decorate their Big Book of Knowledge.
Digital Exclusive:
· The Golden Age
Classic DVD Bonus Features:
· The Making Of BAMBI: A Prince Is Born—A comprehensive look at the making of BAMBI covers the story, the characters, the actors, the art design, the music and the history of Walt Disney's classic film using behind the scenes footage, production stills, animation, artwork and multiple interviews withperformers and behind the scenes participants.
· Tricks of the Trade (excerpt)—In an episode from the 1957 Disneyland TV show, Walt narrates the story of the multiplane camera, an animation innovation crucial to the production of BAMBI.
· Inside the Disney Archives—Disney Supervising Animator Andreas Deja guides viewers through Disney's Animation Research Library, where artwork from past Disney animated feature films is stored, including early story sketches of Bobo the rabbit," (who became Thumper), glass paintings made for the multiplane camera and more.
· The Old Mill—Winner of the 1937 Academy Award® for Best Short Subject/Cartoon, The Old Mill was a testing ground for several techniques critical to Walt's artistic vision for BAMBI, including the multiplane camera, animating realistic animals and experimenting with such natural occurrences such as wind, rain and lightning.
· DisneyPedia: Bambi's Forest Friends
Disclaimer: This promotion was based on using a complimentary product provided by Walt Disney Studios Motion Pictures. Walt Disney Studios Motion Pictures doesn't represent or warrant the accuracy of any statements or product claims made here, nor does it endorse any opinions expressed within this blogsite. The opinions stated from me are 100% mine and they are my true thoughts on this film.
The following two tabs change content below.
Anne is a 30-something full-time SAHM mom of 5 ranging from 3 to 17 and grandma of 1 who resides in Ashwaubenon (Green Bay) Wisconsin. She started blogging in 2008 as a way to regain her sanity. She enjoys coffee, chocolate, cheeseburgers and vodka along with spending time with her husband and kids.
Latest posts by Anne Younger (see all)