Have kids that love Mac & Cheese but hate eating their veggies? This recipe is a sure fire way to get them to enjoy the little green trees!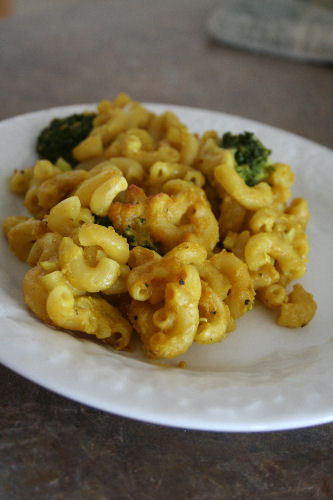 Baked Mac & Cheese with Broccoli
2013-04-03 16:09:42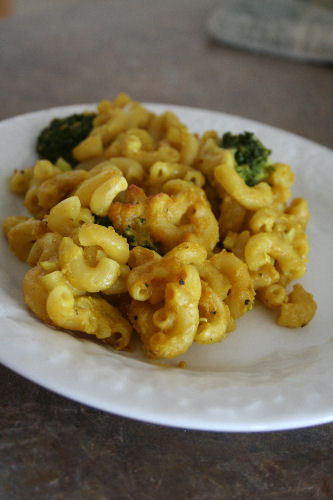 Ingredients
2 spray(s) cooking spray
12 oz uncooked pasta, gemelli or other twisted pasta (about 2 1/2 cups)
1/8 tsp table salt, for pasta cooking water
10 oz broccoli, small florets (about 2 1/2 cups)
1 tsp butter
1/3 cup(s) fresh bread crumbs
3 tbsp grated Parmesan cheese, divided
2 1/2 cup(s) fat-free skim milk
1/3 cup(s) all-purpose flour
1/2 cup(s) onion(s), diced
1 cup(s) low-fat shredded cheddar cheese, sharp-variety
1 tsp Dijon mustard
1 1/2 tsp table salt
1/2 tsp black pepper, freshly ground
Instructions
Preheat oven to 375ºF. Coat a shallow 2-quart baking dish with cooking spray.
Cook pasta in a large pot of lightly salted boiling water according to package directions, adding broccoli to water 3 minutes before pasta will be done; drain pasta and broccoli and return to pot.
Meanwhile, in a large saucepan, melt butter over medium heat; add bread crumbs and cook, stirring often, until light golden, about 2 minutes. Remove from heat and transfer crumbs to a small bowl; stir in 1 tablespoon of Parmesan cheese and set aside.
In same saucepan (wipe clean if necessary), whisk together milk and flour until blended; add onion. Bring to a boil over medium-high heat, whisking frequently. Reduce heat to low and simmer until thickened, about 2 minutes.
Remove from heat and whisk in cheddar cheese, mustard, salt, pepper and remaining 2 tablespoons of Parmesan cheese. Pour over cooked, drained pasta and broccoli; toss to mix and coat.
Transfer to a baking dish and sprinkle top evenly with bread crumbs. Bake until bubbly at edges, about 20 to 25 minutes. Divide into 8 pieces and serve. Yields 1 piece per serving.
The Megalomaniac Mommy http://themegalomaniacmommy.com/
The following two tabs change content below.
Anne is a 30-something full-time SAHM mom of 5 ranging from 3 to 17 and grandma of 1 who resides in Ashwaubenon (Green Bay) Wisconsin. She started blogging in 2008 as a way to regain her sanity. She enjoys coffee, chocolate, cheeseburgers and vodka along with spending time with her husband and kids.
Latest posts by Anne Younger (see all)