As I mentioned in a previous post, this past weekend, the Alex (AKA @TheSciFiDaddy), baby Ellie and I made our way to Chicago for the 2012 International Home & Housewares Show.
We had a blast!
I had received an email earlier in the week inviting us to stop by the SodaStream booth to check out their new line in addition to see their special celebrity guest, Jillian Michaels.
We had already planned on stopping by the booth because I was dying to try a SodaStream (yes, up until Saturday, we were SodaStream virgins!).
So, we made our way to the booth, learned how to make a soda using the SodaStream and some other cool stuff before taking a seat to wait for Jillian.
A few minutes later Jillian came out to face the crowd around the booth, pose for pictures and shoot some promos.  We couldn't see much of her (other than her backside which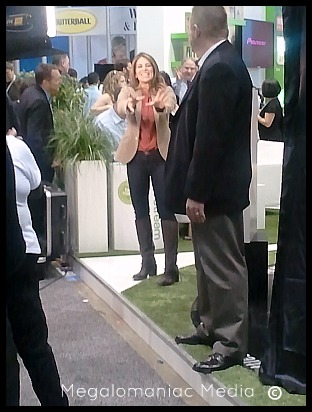 the Alex didn't mind) and then we were asked to move to another seat because we were in every shot.  Of course, this was not a problem, so we moved.  We continued to wait for
a bit as she did more promos until the Alex said he wanted to get moving and check out more stuff.  We made our way around to the front of the booth in an attempt to take a picture or two
I no more than snapped this picture, not even knowing what I had actually taken a picture of when I look at Jillian, yes, THE JILLIAN MICHAELS, and here her say I want to see the baby! of Jillian and just as I snapped this picture, everything changed!
Yes!!!
Jillian Michaels was requesting to meet see our little Baby Ellie all snug and wrapped in her Moby strapped to me.
I of course obliged and made my way over to show off our precious little girl.
I mean seriously…..Jillian Michaels!
I walked over to her, I showed off little Miss Ellie.
Thank goodness the Alex was there with me and was paying attention otherwise we wouldn't have these awesome pictures in which you can see Jillian swoon over the cuteness that is Baby Ellie and one of her and I talking about Ellie.
She couldn't believe that Ellie was closing in on 3 months, she thought for sure she was just 2 days old.  She went on to tell me about her niece who had just had a baby who was already 10lbs which is what our 3 month old Ellie is.
Now, remember that part when I mentioned that Jillian was shooting photos and promos right before this happened?
Well, she did this in the middle of shooting a promo and they had to start over.
I thought that was pretty awesome.  She didn't care if she had to do it again, she just really wanted to see our baby and meet Ellie.
As for the Alex and I, we are still in shock that this happened and think it is pretty damn sweet!
Thank you @JillianMichaels for being awesome and for being the first celebrity our little Ellie got to meet!!
The following two tabs change content below.
Anne is a 30-something full-time SAHM mom of 5 ranging from 3 to 17 and grandma of 1 who resides in Ashwaubenon (Green Bay) Wisconsin. She started blogging in 2008 as a way to regain her sanity. She enjoys coffee, chocolate, cheeseburgers and vodka along with spending time with her husband and kids.
Latest posts by Anne Younger (see all)