*This post is brought to you by our friends at Harlequin Presents. I received a promotional item in order to facilitate this review. All thoughts and opinions are my own. This post may contain affiliate links.*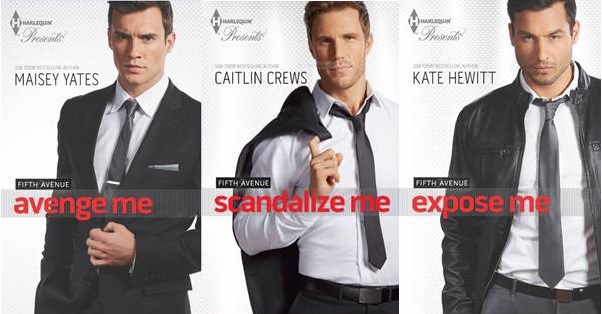 If you are like me and you enjoy the hit TV show revenge, you are going to LOVE this trilogy of books from Harlequin Presents.
Currently ranked as one of the world's most expensive streets, Fifth Avenue is home to the city's most prestigious shops and historical buildings. It's also called home by three of New York City's sexiest men. A brand-new trilogy from the world's leading publisher of books for women, Harlequin Presents is excited to launch the Fifth AvenueTrilogy, stories of sex, scandal and the Upper East Side, beginning with:
~Avenge Me by Maisey Yates (Harlequin Presents, June 2014, $9.99 U.S./$11.99 CAN)
~ Scandalize Me by Caitlin Crews (Harlequin Presents, July 2014, $9.99 U.S./$11.99 CAN)
~ Expose Me by Kate Hewitt (Harlequin Presents, August 2014, $9.99 U.S./$11.99 CAN)
Austin, Hunter and Alex were inseparable during their school days, but the sudden death of their good friend Sarah Michaels tore them apart. However, her death was not as it seemed. Under the many falsehoods lies a corruption so sordid that New York's elite would never believe it.
Now in positions of wealth and power, these men vow to use their influence to bring down the man responsible—Jason Treffen, an infamous philanthropic billionaire. With a plan in place, Austin, Hunter and Alex are ready for anything—until three very different women enter their lives, making them question their motives for revenge.
I was fortunate to preview all three of these books recently and speak from experience when I tell you they are so good. I devoured all 3 books in one weekend and that is not something that happens often.
If you are looking for something to read that is filled with plot twists and turns, have a few days to spare and time to get lost in lives of the wealthy and corrupt, take the time to pick up the first book in the series, Avenge Me, and start reading today!
The following two tabs change content below.
Anne is a 30-something full-time SAHM mom of 5 ranging from 3 to 17 and grandma of 1 who resides in Ashwaubenon (Green Bay) Wisconsin. She started blogging in 2008 as a way to regain her sanity. She enjoys coffee, chocolate, cheeseburgers and vodka along with spending time with her husband and kids.
Latest posts by Anne Younger (see all)