Thanks to the good folks at Click Communications, we recently had the opportunity to review James Cameron's AVATAR. Now, I will be honest, I have not had the chance to watch the film just yet, but the rest of the family has, including my 11 year old son, Zack. I remember the night he crawled into bed to watch it. After it was over he came out with the look of shock and awe on his face. The only words coming from his mouth were: Awesome! Unbelievable! Awesome! So cool! I need to watch it again!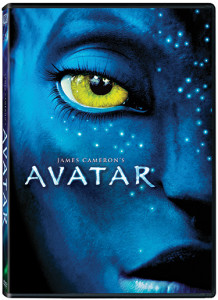 As you can tell, he was really into it!
When writing this review, I thought what better way than to interview him, so here goes:
TMM: How long did you wait to see Avatar?

ZMAN: Oh, since I first saw the previews on TV that it was coming to theaters.

TMM: How badly did you want to see Avatar?

ZMAN: Sooooooooooooooooo bad!!!!

TMM: How totally stoked were you when Avatar arrived at the house?

ZMAN: I had no clue what was going on and then I saw the movie on the table and screamed, "Oh yes, Avatar!!! Finally!!"

TMM: What was your favorite part of the film?

ZMAN: The war, because fights in movies are totally cool!

TMM: What was your least favorite part of the film?

ZMAN: When they knocked down the trees because the damage and people were upset.

TMM: How many times have you watched the movie?

ZMAN: Twice and I plan on watching it a million more times!

TMM: What are your other thoughts on Avatar?

ZMAN: It was really good and I can't wait to watch it again! Actually, why am I sitting here? See you later, I am off to watch Avatar now!
So, there you have it, from the mouth of a 11 year old boy who is now obsessed with Avatar!
Avatar was written by James Cameron and produced with his long-time collaborator Jon Landau, AVATAR stars Sam Worthington, Zoë Saldana, Sigourney Weaver, Stephen Lang, Michelle Rodriguez, Giovanni Ribisi, Joel David Moore, CCH Pounder, Wes Studi and Laz Alonso.
This Oscar and Golden Globe® winning epic is the highest grossing film of all time, taking in over $2.6 billion in worldwide box office. Director James Cameron takes audiences to a spectacular world beyond imagination, where a reluctant hero embarks on a journey of redemption and discovery as he leads a heroic battle to save a civilization. AVATAR delivers a fully immersive cinematic experience of a new kind, where the revolutionary technology invented to make the film disappears into the emotion of the characters and the epic nature of the story.
Disclosure of material connection:
The following two tabs change content below.
Anne is a 30-something full-time SAHM mom of 5 ranging from 3 to 17 and grandma of 1 who resides in Ashwaubenon (Green Bay) Wisconsin. She started blogging in 2008 as a way to regain her sanity. She enjoys coffee, chocolate, cheeseburgers and vodka along with spending time with her husband and kids.
Latest posts by Anne Younger (see all)